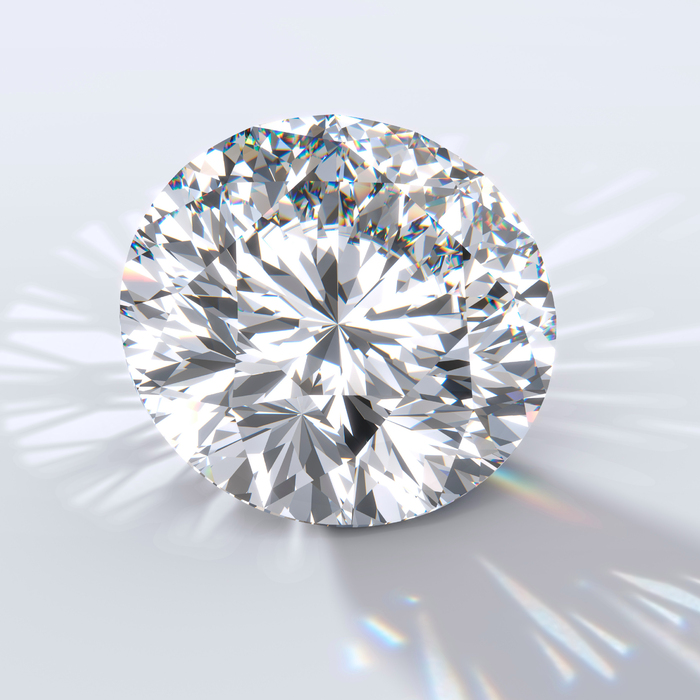 0.50 Carat Diamond
E VS2 - Round - Natural - Ref. 242534

The name and certificate number are engraved on all our certified diamonds i
Add to basket
add to a jewel
Estimated delivery time : 2 Weeks
30-day money back guarantee
Free shipping for France, Monaco and EEC countries
Secured payment
Payment on delivery : 35% at the order and balance upon reception
Exceptional quality of stone and jewel

Customer service at your service, provided by diamond dealers

Sealed diamonds with a certificate of quality and authenticity

French manufacturing

30-Day « satisfied or reimbursed »
guarantee

Online secured payment
Add my Round brilliant diamond to a jewel
Our jewellery selection
4 Claws Classic

Price Jewel + Diamond : 2129€

Choose

4 Claws Karma

Price Jewel + Diamond : 2129€

Choose

5 Claws Classic

Price Jewel + Diamond : 2159€

Choose

Some-day (one-Night) 4-Claws

Price Jewel + Diamond : 2189€

Choose

4 Claws Bi-LED

Price Jewel + Diamond : 2369€

Choose

Bi-LED Princess Fire

Price Jewel + Diamond : 2657€

Choose

PLATINEA Berceau

Price Jewel + Diamond : 2789€

Choose

SUNRISE

Price Jewel + Diamond : 2189€

Choose

Some-day (one-Night) 4-Claws and Hyphens

Price Jewel + Diamond : 2249€

Choose

6 Claws Bi-LED

Price Jewel + Diamond : 2369€

Choose

4 Claws Karma (paved)

Price Jewel + Diamond : 2429€

Choose

SOLITAIRE 5 +

Price Jewel + Diamond : 2789€

Choose

PARIS Premium 2

Price Jewel + Diamond : 2849€

Choose

DEVA

Price Jewel + Diamond : 2069€

Choose

6 Claws Classic

Price Jewel + Diamond : 2129€

Choose

CRADLE

Price Jewel + Diamond : 2129€

Choose

PARISOLO

Price Jewel + Diamond : 2249€

Choose

SUNRISE (Paved)

Price Jewel + Diamond : 2429€

Choose

CRADLE (paved)

Price Jewel + Diamond : 2519€

Choose

PARISOLO (paved)

Price Jewel + Diamond : 2609€

Choose

NEW LOVE EMBRACINGS

Price Jewel + Diamond : 2429€

Choose

UNIK

Price Jewel + Diamond : 2189€

Choose

LOVE

Price Jewel + Diamond : 2249€

Choose

NOSOLO

Price Jewel + Diamond : 2393€

Choose

CELESTIAL

Price Jewel + Diamond : 2429€

Choose

DEVA (paved)

Price Jewel + Diamond : 2609€

Choose

DIAM

Price Jewel + Diamond : 2489€

Choose

GOLD 6544

Price Jewel + Diamond : 2657€

Choose

NOSOLO (paved)

Price Jewel + Diamond : 2753€

Choose

NEW LOVE EMBRACINGS pavé

Price Jewel + Diamond : 3029€

Choose

LUNA

Price Jewel + Diamond : 2669€

Choose

Between you and me

Price Jewel + Diamond : 2669€

Choose

VISION

Price Jewel + Diamond : 2909€

Choose

For Ever Ring

Price Jewel + Diamond : 2123€

Choose

BRILLIANT

Price Jewel + Diamond : 2429€

Choose

KISS ME

Price Jewel + Diamond : 2909€

Choose

DIAMOND CROWN

Price Jewel + Diamond : 3269€

Choose

TOGETHER AS ONE

Price Jewel + Diamond : 3269€

Choose

CARESS

Price Jewel + Diamond : 3629€

Choose

Pink Gold

Price Jewel + Diamond : 2465€

Choose

LA VIE EN ROSE

Price Jewel + Diamond : 2489€

Choose

Gold 6544

Price Jewel + Diamond : 2657€

Choose

LIGHT GLANCE N°3

Price Jewel + Diamond : 2643€

Choose

THRILL

Price Jewel + Diamond : 2909€

Choose

The 2 of us

Price Jewel + Diamond : 3149€

Choose

CONSTELLATION

Price Jewel + Diamond : 3269€

Choose

PASSION

Price Jewel + Diamond : 3689€

Choose

DIAMANIA

Price Jewel + Diamond : 5069€

Choose

Fishing wire

Price Jewel + Diamond : 1799€

Choose

SOLITAIRE N°1 with swivelling bail

Price Jewel + Diamond : 2069€

Choose

ETERNITY

Price Jewel + Diamond : 2069€

Choose

4 CLAWS

Price Jewel + Diamond : 2069€

Choose

CRADLE

Price Jewel + Diamond : 2069€

Choose

3 CLAWS B

Price Jewel + Diamond : 2069€

Choose

4 CLAWS B

Price Jewel + Diamond : 2069€

Choose

BRILLIANT SUN by Sandro Pignotti

Price Jewel + Diamond : 2429€

Choose

VENITIAN

Price Jewel + Diamond : 2309€

Choose

Paved Round Brilliants

Price Jewel + Diamond : 2393€

Choose

POETS CIRCLE

Price Jewel + Diamond : 2789€

Choose

4 CLAWS CRADLE

Price Jewel + Diamond : 3394€

Choose

4 CLAWS

Price Jewel + Diamond : 3394€

Choose

3 CLAWS

Price Jewel + Diamond : 3394€

Choose

3 CLAWS PREMIUM

Price Jewel + Diamond : 3394€

Choose

4 CLAWS PREMIUM

Price Jewel + Diamond : 3394€

Choose

LOVE TRIANGLE by Sandro

Price Jewel + Diamond : 3958€

Choose

MONO CRADLE

Price Jewel + Diamond : 1769€

Choose
Buy a 0.50 Carat E Colour VS2 Clarity G Cut diamond with a Round brilliant Shape on i-diamants.com, the diamond buying / selling specialist.
Carats / Diamond weight
Information about the relation between the weight and the diameter of a diamond
Equivalence for round brilliant diamonds
Examples of different diamond measures





Your selection :
« 0.50 Carat » diamond
Diamond colours
White degree from D to Z

D-EExceptional white
F-GExtra white
HWhite
I-JSlightly tinted
K-MTinted white
N-ZVery tinted
Your selection :
« E » Colour diamond
Definition of fluorescence
Fluorescence is a luminous effect that some diamonds exhibit when exposed to ultraviolet light. They show visible light, usually blue.
Our recommandation
Since fluorescence may in some cases give a milky diamond appearance, prefer a diamond without fluorescence ("None" or "Nil")
Your selection :
« none » Fluorescence diamond
Diamond cut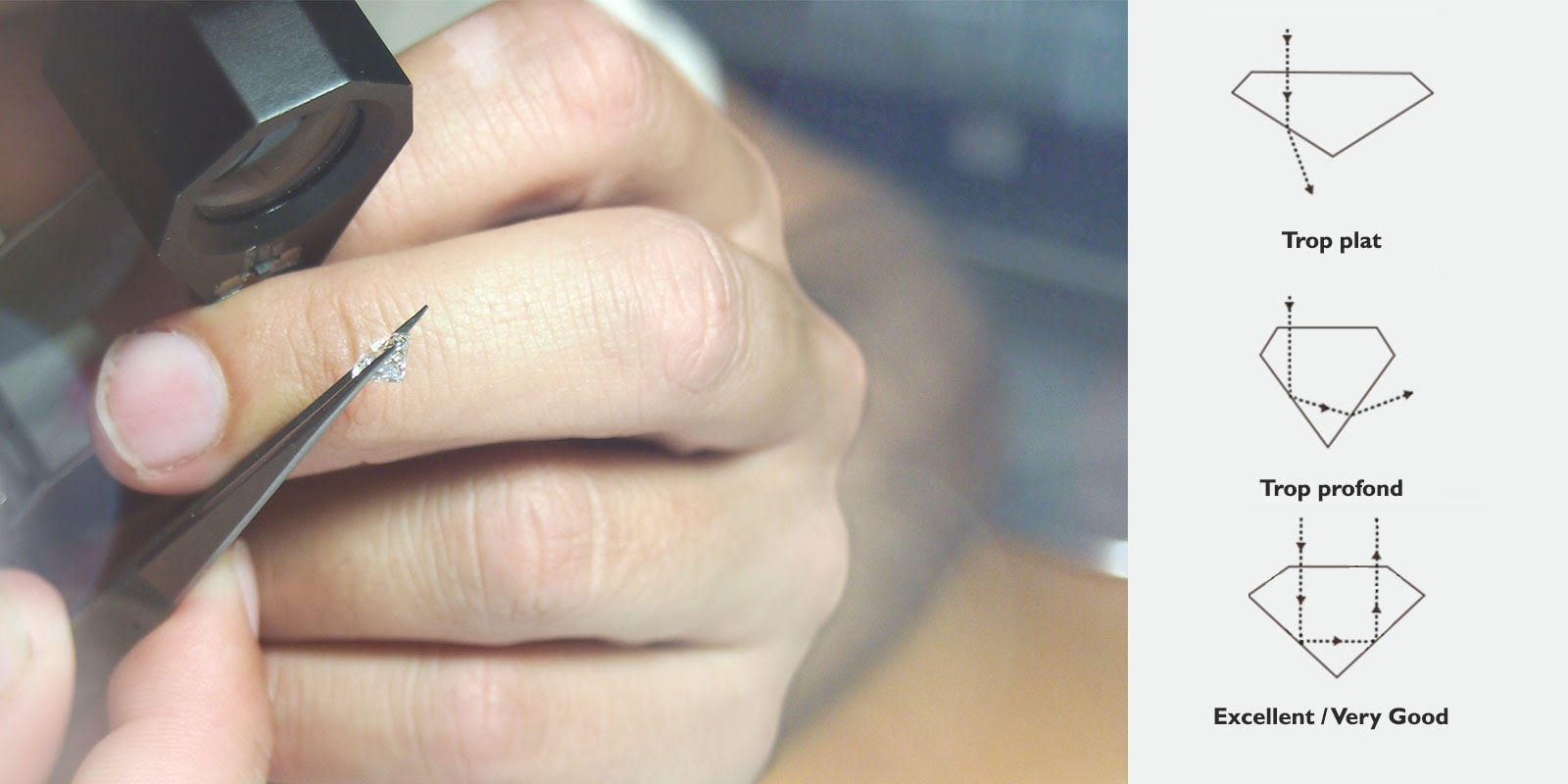 Quality cut scores recommended by i-diamants

| | | | | | |
| --- | --- | --- | --- | --- | --- |
| Cut Grade | Excellent | Very Good | Good | Fair | Poor |
| Polish Grade | Excellent | Very Good | Good | Fair | Poor |
| Symmetry Grade | Excellent | Very Good | Good | Fair | Poor |
Your selection :
« G » Cut diamond
Diamond clarity





IFPure
VVSVery very small inclusion(s)
VSVery small inclusion(s)
SISmall inclusion(s)
PIncluded
Your selection :
« VS2 » Clarity diamond
Laser engraving
The three major diamond certification laboratories HRD, IGI and GIA offer the option of laser engraving the certificate number on the girdle (circumference) of the diamond. This is a proof of the good match of the diamond and its certificate. The inscription is very small (to preserve the purity of the stone) and very difficult to read with the magnifying glass 10X. If you order only the diamond (without the jewel), it will be delivered under seal in a rigid plastic pouch (see photo below) for diamonds certified by HRD or by IGI. For GIA diamonds, the seal must be specifically requested in the comments field during the ordering process.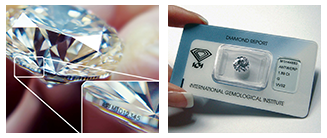 View certificate
Free shipping for France, Monaco and EEC countries
Your package is insured up to the value of the diamond and / or the jewel delivered. Shipments are made by La Poste in Declared Value or by Private Express companies with hand delivery against signature. You can specify your delivery method preference in the free comments field at the time of order. The package is sent in all confidentiality (no apparent mention of i-diamants and the nature of the product). Shipping costs are offered by i-diamants for the ''France / Monaco / EU and DOM / TOM'' zone, and are 35 euros for the ''Rest of the World'' zone.
Payment : 6 options
You can pay :
by credit card (Oneytrust secured payment): Visa, Mastercard, American Express…
in 3 times without charge, by credit card, and spread your payment over 3 consecutive months
by Paypal
by bank transfer
by cheque
with a deposit of 35% by credit card and the balance on delivery by check or by credit card
« Satisfied or reimbursed » guarantee
Free and Insured Shipping
Secured Payment
X
As you continue your navigation, you accept the use of cookies to provide our service and to secure transactions on our website.
Don't show anymore
More info