---
Diamond catalogue
Are you looking for a quality diamond at the price of the web? Discover on our website, a large catalogue of very competitive diamonds prices from 0,15 carat to 1 carat and more ... The quality of each of our diamonds of the catalogue is always certified by one of the three largest independent laboratories and recognized worldwide as the best: GIA, HRD and IGI. Diamonteers since 1888, we make a point of honor to make you the most precise and simple choice possible. You can refine our diamond price list according to your carat (diamond weight), color, purity, size, certificate and according to your budget. You can also filter according to our favorites, our recommendations for a choice that favors balance or perfection of quality criteria, and our offers of the moment. The delivery time of a diamond is 1 to 2 weeks. The online purchase by credit card, PayPal, by credit card in 3 times without charge, by CB with down payment on the order and balance on delivery, by check or bank transfer is secure. Delivery is assured and offered regardless of the carat weight and the value of the diamond purchased. For more information, please feel free to contact us.
Read More
Close
Carats / Diamond weight
Information about the relation between the weight and the diameter of a diamond
Equivalence for round brilliant diamonds
Examples of different diamond measures





Diamond colours
White degree from D to Z

D-EExceptional white
F-GExtra white
HWhite
I-JSlightly tinted
K-MTinted white
N-ZVery tinted
Diamond clarity
​Purity from IF to P





IFPure
VVSVery very small inclusion(s)
VSVery small inclusion(s)
SISmall inclusion(s)
PIncluded
Diamond cut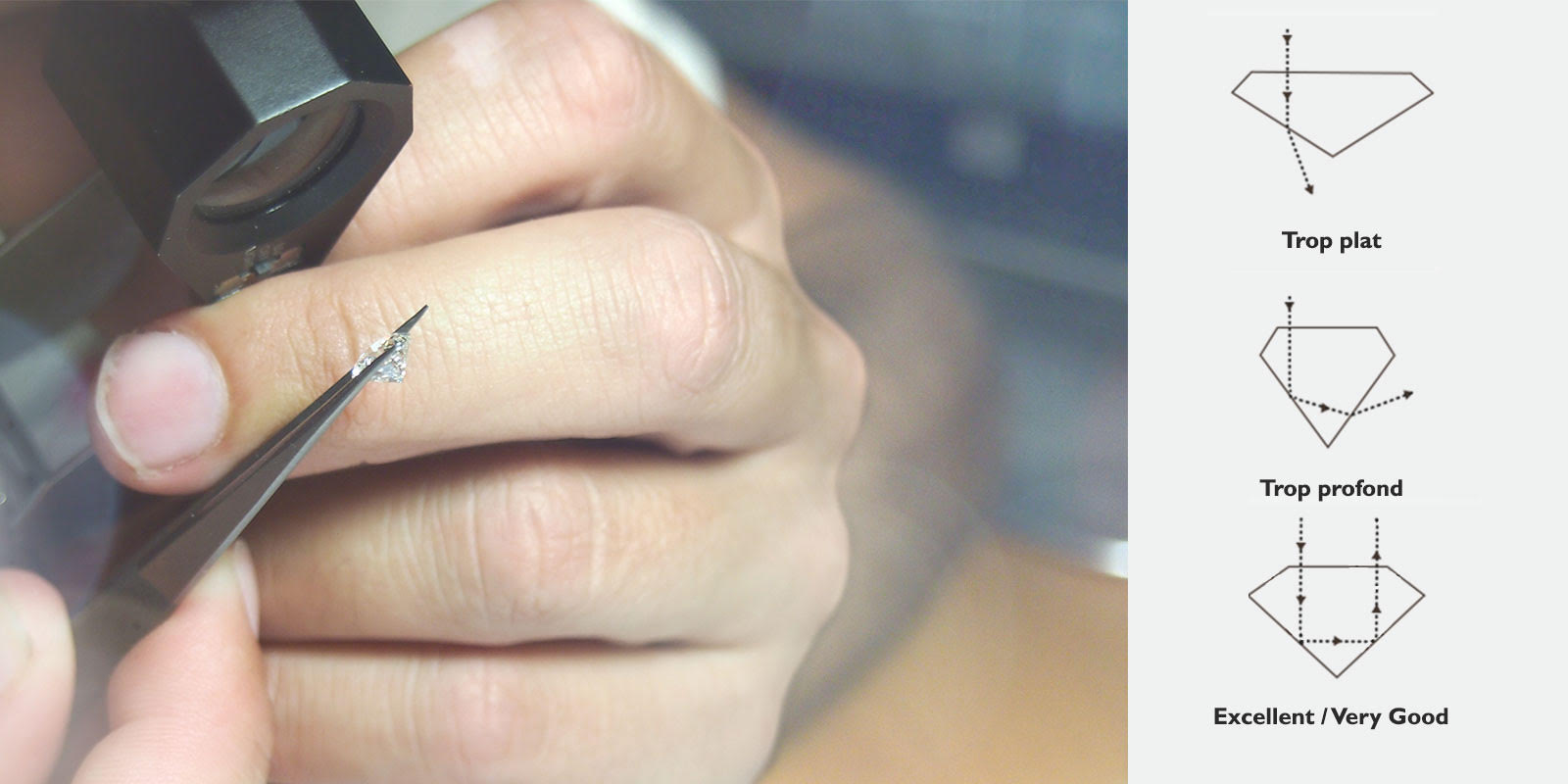 Quality cut scores recommended by i-diamants

| | | | | | |
| --- | --- | --- | --- | --- | --- |
| Cut Grade | Excellent (EX) | Very Good (VG) | Good (G) | Fair (F) | Poor (P) |
| Polish Grade | Excellent (EX) | Very Good (VG) | Good (G) | Fair (F) | Poor (P) |
| Symmetry Grade | Excellent (EX) | Very Good (VG) | Good (G) | Fair (F) | Poor (P) |
In our diamond catalogue, we only offer natural diamonds with a certificate of authenticity and quality issued by one of the 3 most prestigious and recognized worldwide laboratories: GIA, HRD and IGI.



Diamond Polishing
Polish describes the finish of the diamond's surface. After the diamond is cut, each facet must be polished. This process can leave scratches or marks on the surface. If a diamond has no scratches or very minor scratches, the polish is high level. Scratches, lines, burn marks created by excessive heat, or rough sheathing can lower a diamond's polish rating. Polish is rated as Excellent (EX), Very Good (VG), Good (G), Fair (F) or Poor (P). The better the polishing, the more it allows the transmission of light through the different facets of the diamond. We recommend that you choose an Excellent (EX) or Very Good (VG) quality polish to ensure the best finish and shine.
Diamond Symmetry
Symmetry describes the symmetrical accuracy of the diamond facets in terms of dimensions and angles, as well as the centering of the table and the centering of the diamond breech tip. The more precise the symmetry, the better the cut of the diamond. A higher level of symmetry creates optimal shine and scintillation. If the facets are misaligned, the diamond can reflect light poorly. Symmetry is rated as Excellent (EX), Very Good (VG), Good (G), Fair (F) or Poor (P). We recommend that you choose a diamond with a symmetry score equal to Excellent (EX) or Very Good (VG) to maximize sparkle.
Diamond Fluorescence
Fluorescence is a luminous effect that some diamonds exhibit when exposed to ultraviolet light. They show visible light, usually blue.
Our recommandation
Since fluorescence may in some cases give a milky diamond appearance, prefer a diamond without fluorescence ("None" or "Nil")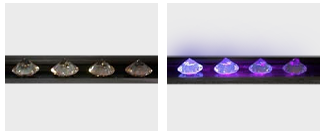 Favorite's choice : diamond selected by i-diamants for its shine

Choice of balance : diamond with a good balance of color / clarity : F-G / VS1-VS2

Deal of the moment : diamond at a low price compared to its weight and quality

Choice of perfection : diamond with the best criteria of color and clarity : D IF


Diamond origins
For these diamonds, the country of origin of the diamond is mentioned on the GIA certificate. To be able to trace a diamond from rough to cut, GIA collects and analyzes the physical measurements, spectroscopic data and imagery of the rough diamond before it is cut. An identification number is assigned to the rough diamond. The GIA later uses this data to scientifically match the cut diamond to the original rough diamond from which it came.