Diamond is a precious stone with a thousand year old history. Known by all, it has crossed the centuries, arousing the admiration of all peoples. Even today, the diamond is still greatly appreciated and perceived as a symbol of love and purity. Mounted as a jewel, it is the most coveted and symbolic precious stone in the world. Very often offered as an engagement ring, it is used to celebrate the union between two people. However, buying a diamond engagement ring can be a difficult choice. This is why the i-diamants website accompanies and guides you through this important stage of your life, offering you GIA, HRD and IGI certified diamonds and answering the most frequently asked questions. Trust our diamond experts.
How to choose a diamond engagement ring for women?
When talking about diamonds, the 4Cs refer to a very precise rule applied in all countries of the world: Carat, Colour, Clarity and Cut. This means in French Weight, Color, Purity and Cut. The purpose of this international rule is to classify diamonds, which will then allow to determine their value with precision.
The size of the diamond
An excellent diamond cut allows the diamond to reflect light and sparkle.
The weight of the diamond
It is calculated in carats. From 0.30 carat, it is imperative to have a certificate guaranteeing the quality of the diamond.
The colour of the diamond
A white diamond is actually transparent. Some may have a slight hue. The more transparent a diamond is, the more valuable it is.
The brilliance of the diamond
The brilliance of a diamond is first and foremost a return of white light: the whiter the diamond, the more sparkling it will be on your jewel. The level of purity has less impact on the brilliance (except for the very low SI3-P1 purities that break the diamond's brilliance). But purity remains a psychological notion inherent to the value of a diamond. Don't sacrifice purity if you associate the diamond with the idea of purity...
What budget should I set aside for the purchase of a cheap diamond engagement ring?
With i-diamants.com: you can choose the diamond and customize your diamond engagement ring. It's a way to symbolize your union with a unique and precious jewel.
Before choosing the elements that will compose your engagement ring, it is important to familiarize yourself with the quality criteria that define a diamond.
The quality of a diamond is evaluated according to 4 main criteria.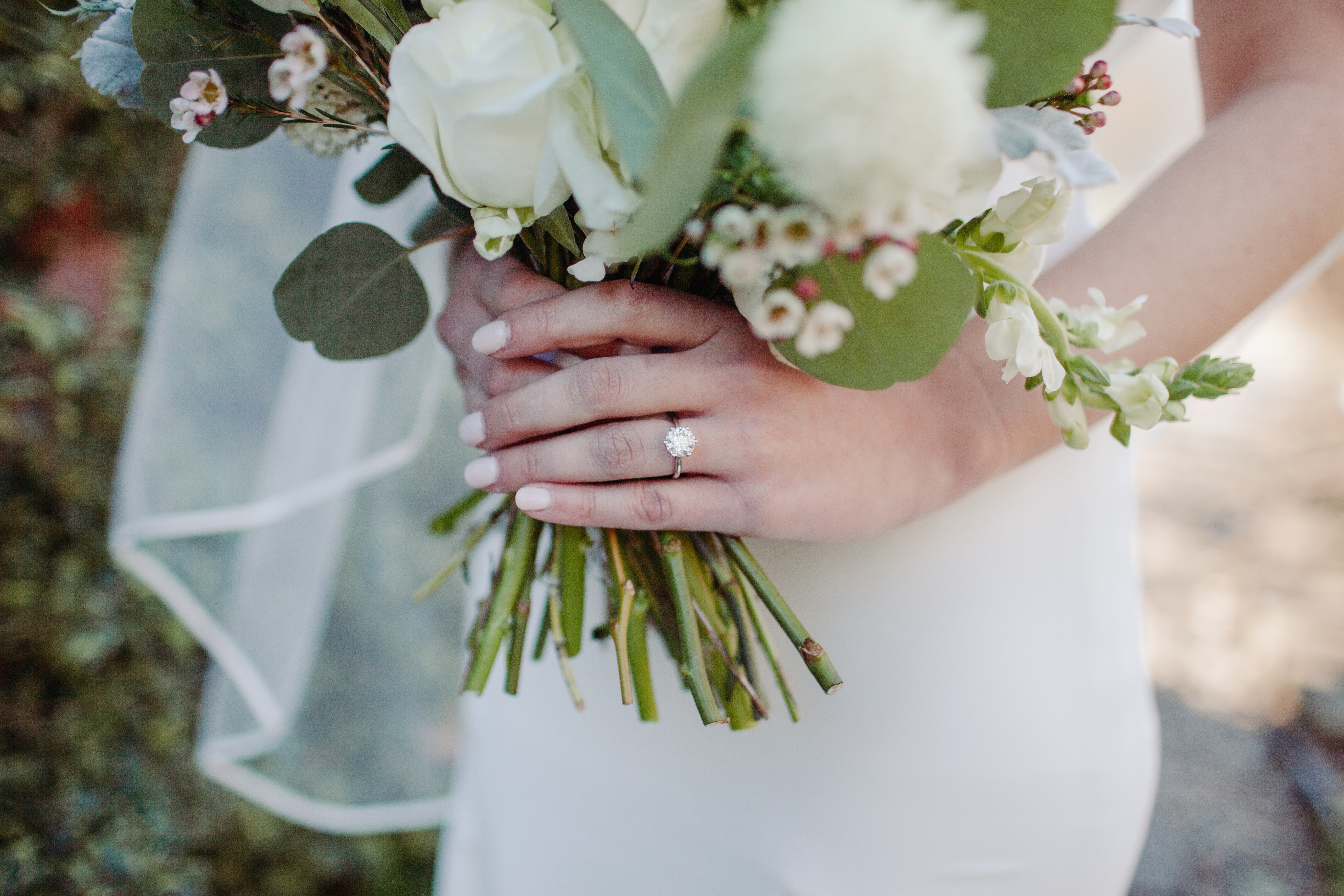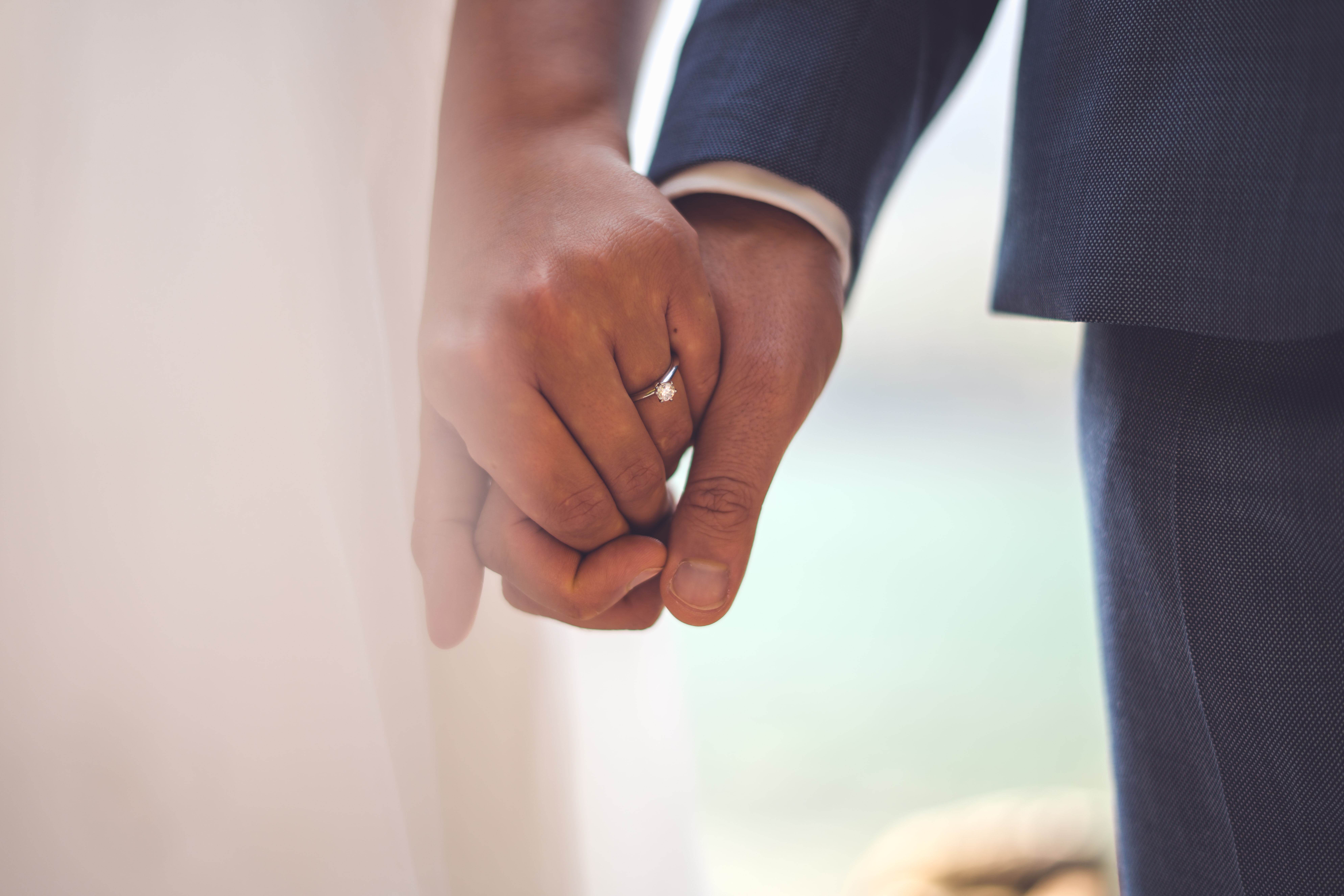 Exceptional quality of stone and jewel
Customer service at your service, provided by diamond dealers
Sealed diamonds with a certificate of quality and authenticity
Our tips for finding a unique diamond engagement ring: follow the 4Cs rule
The first criterion to take into account when choosing your engagement ring is the weight of the diamond, its unit of measurement being the Carat (ct). In gemmology, 1 carat corresponds to 0.2g. For diamonds, the carat is divided into 100 points. Therefore, if 1 ct equals 100 points, 0.25 ct (i.e. "¼ of carat") corresponds to 25 points. However, although weight is a determining factor in assessing its value, it does not set the price in a linear fashion. Grading is done by thresholds, which means that there can be a significant price difference between a 0.89 ct diamond and a 0.90 ct diamond, simply because the two values are not on the same threshold.
The second criterion to be considered when assessing the value of a diamond is its color. Please note that the whiter a diamond is, the rarer and purer it is considered to be. A colourless diamond will have much more value than a coloured diamond. To classify a diamond according to its color, the diamond dealer uses an international grading system of 23 shades of white ranging from D to Z. The D grade corresponds to a completely colorless diamond, while Z corresponds to a diamond composed of strong shades of yellow.
The third criterion that will determine the value of your diamond is its clarity. When we want to evaluate the purity of a diamond, we study the different visible inclusions that appeared during the formation of the diamond. Diamonds without inclusions are extremely rare, but they do exist. They are called totally pure. Using very precise tools, each inclusion is evaluated according to two main criteria: its size and intensity. An international scale composed of 8 different grades (from IF to Pique) is then used to determine its purity.
The fourth and final criterion that will allow you to choose the ideal diamond for your engagement ring is its size, i.e. the way it was cut. This is probably the most important criterion to take into account, because it is the one that will give it its full brilliance. Its value will be determined by the quality of its cut, not its shape. The better the cut, the brighter and more valuable the diamond will be.
The purity of the diamond
It is defined by the inclusions in the diamond. If they are not visible to the naked eye and with a 10x magnification magnifying glass, the diamond is considered pure.

The engagement rings from the i-joaillerie de i-diamants boutique are delivered with the certificate of quality in a case.

Ask for professional advice for your diamond engagement ring.
For the purchase of a diamond engagement ring, choose a good quality diamond. The singularity of i- diamonds is to offer diamonds of a perfect size and therefore very brilliant.
i- diamonds helps you buy a diamond engagement ring by dotting the "i's".
Our motto "Integrity Inside, Beauty Outside" underlines our attitude of respect for the customer and for the product :
1) Integrity of the maximum information about the proposed diamond.
2) Optimal beauty of each diamond in the i-diamants catalog.
For the choice of the diamond, an essential part of the composition of an engagement ring, we recommend the following color/purity combinations :

Color: D, E or F / Purity: IF to VVS = if you are looking for excellence
Color: D, E or F / Purity: VS to SI = if you prefer an intense white
Color: G or H / Purity: IF to VVS = if you prefer absolute purity
Color: G or H / Purity: VS to SI = if you are looking for a good balance
Color: I or J / Purity: IF at P1 = if you want to maximize the carat, even if you have to sacrifice quality.
Buying an engagement ring in the 2020s: choosing a diamond solitaire in white, yellow, pink gold or platinum?
The choice of diamond is an important step in the creation of an engagement ring. It is necessary to be well informed about the different possibilities to be sure that the diamond chosen corresponds to your expectations.
Generally, the most common alloy used in jewelry is white gold, which is a wonderful blend of tradition and modernity. It is elegant, discreet and timeless at the same time. Its color
adapts to all outfits and all skin types. In terms of carats, it is preferable to choose an 18 karat white gold diamond solitaire, which represents the best quality of gold that will not fade over time. On the other hand, it is better to avoid 14 carat white gold, even if the price is more attractive, because the color of the jewel may fade over time. As for 9 carat white gold, it is strongly discouraged because it will lose its color and luster very quickly.
As for diamonds set on yellow gold, it is often appreciated because it is the natural color of pure gold. However, yellow gold is too soft to be worked directly and must be combined with silver or copper to form a jewel. As for white gold, it is strongly advised to choose an 18 karat yellow gold diamond and to avoid 14 karat or 9 karat diamonds, even if the price is more attractive. Their quality being inferior, you will regret it in the long run.
Pink gold can also be a good choice for an engagement ring. The color of love and passion, pink is an excellent choice to declare your flame to your loved one. It combines both modernity and softness while bringing a touch of originality. Pink gold has nothing to do with traditional white or yellow gold. Little used in the past, it is today more and more worked by the professionals of the jewelry industry. Once again, in the same way as white or yellow gold, you will have to be particularly attentive to the gold titling of your jewelry. The pink gold 18 carats is to be privileged, while pink gold in 9 or 14 carats is to be avoided.
Finally, it is also possible to choose a platinum engagement ring. This precious metal is particularly appreciated and has many advantages. For starters, its mechanical properties and resistance to abrasion make it the preferred metal of jewelers. It holds any type of gemstone perfectly in place and is therefore widely used in the manufacture of gemstone jewelry. Its sobriety and splendor make it the precious metal par excellence. However, since platinum is rare and particularly hard to work with, its acquisition represents a high cost.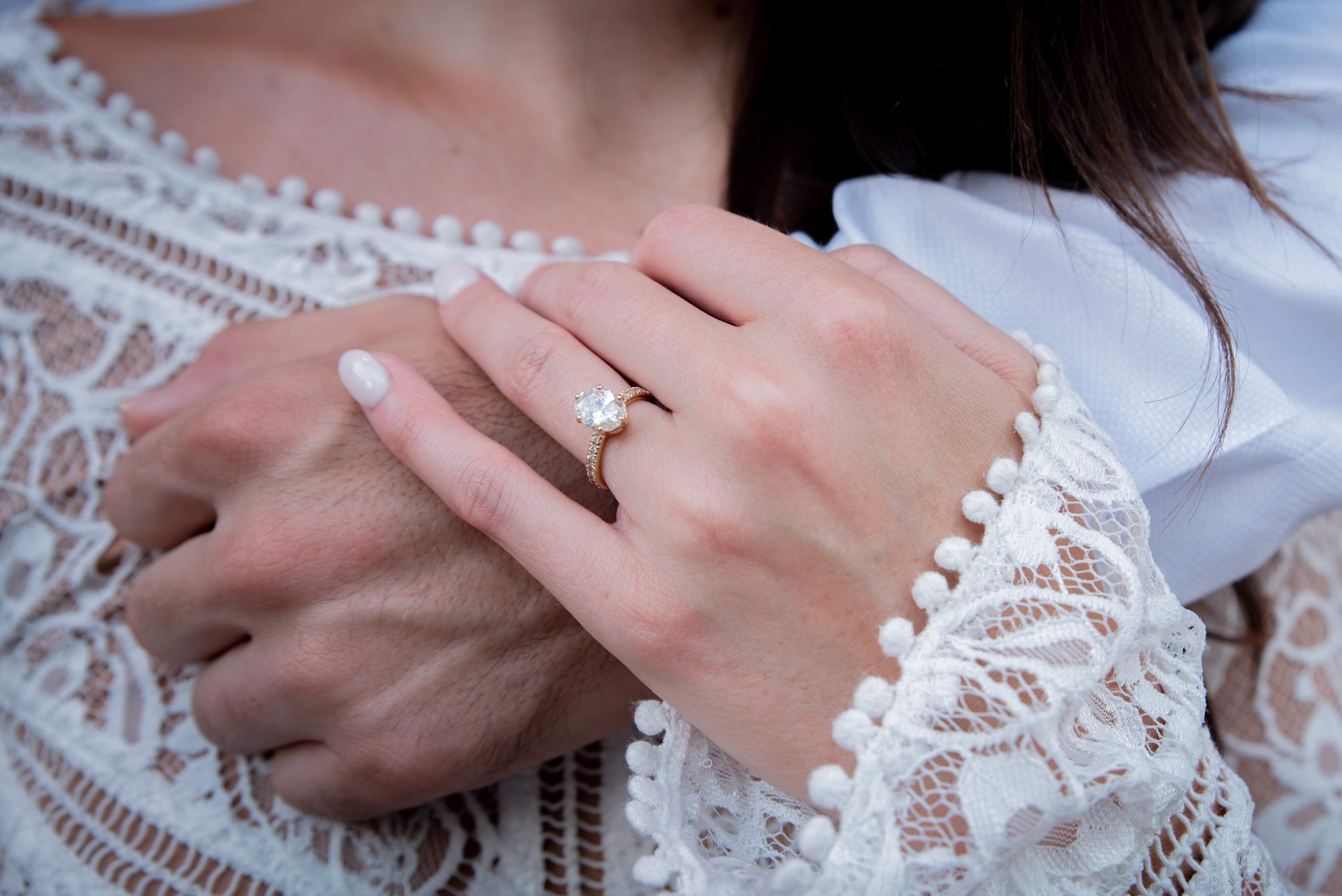 Why not create your custom diamond solitaire ring?
It can be very difficult to make the right choice regarding the perfect engagement ring. The diamond solitaire rings you've seen are not to your liking? Looking for something even more unique? In that case, it is entirely possible for you to create your custom diamond solitaire ring that respects your desires and your authenticity. What could be more pleasant than to wear a jewel with a unique and personal value? From the setting to the stone, let your creativity guide you to create the jewel of your dreams. A specialized jeweler is fully qualified to create your custom ring. There are of course advantages and disadvantages to this way of doing things, we will talk about them here.
Reasons to make a custom-made diamond solitaire: a unique jewel for the loved one
Let's start with the advantages of a personalized creation of your solitaire diamond ring. The most obvious reason to get started is undoubtedly the emotional value that this ring will have for you. In fact, you can tell yourself that this ring will come straight out of your imagination, and will be designed according to your personal taste. That way, you can be sure that no one else in the world will have a ring like yours. This gives it a unique, sentimental and totally personal value. Moreover, the process of realization is relatively simple: let yourself be guided! Once you've chosen a trusted expert, all you have to do is transmit your desires and ideas, with all your creative power. The professional will then use the elements that you have previously transmitted to him to create the ring of your dreams.
However, like any other practice, custom design has some drawbacks. The first one is probably the time devoted to the realization of your ring. Between the realization of your ideas and the realization of the ring, it takes several weeks. Therefore, the best way to counteract this disadvantage is anticipation. If you plan to propose within a few days, you may run out of time. The realization of a custom-made ring is anticipated and thoughtful,
So give yourself enough time to make your ring the way you want it. The second disadvantage to its creation is the price. It is better to set your budget from the start, so you will not be surprised once it is finished. With a budget in mind, you can ask the expert's advice to make sure that its realization will fit your budget.
The creation of a diamond ring online or in a jewelry store: what are the differences?
To choose your diamond engagement ring, you have two options: purchase in a jewelry store or buy online. Both solutions have advantages and disadvantages that are important to consider.
By choosing to create your diamond ring in a jewelry store, the first advantage is certainly to be able to observe the diamonds physically. Generally, one prefers to move around in a jewelry store because it is more reassuring. The cost of a diamond ring proves to be particularly high, so it is normal to want to estimate the jewel with the naked eye. Moreover, going to a jewelry store will allow you to ask your eventual questions directly to a jeweler, who will be able to accompany you and guide you in the choice of your diamond ring. On the other hand, the stock of gemstones in jewelry stores is quite limited, for security reasons. Therefore, you will not have before your eyes all the choices you could find online.
Buying online, on the other hand, can be attractive for people on a tighter budget. It is possible for you to save 30 to 50% by choosing this solution, because you can find online diamond ring sales sites on the Internet that defy all competition. There are very powerful price comparison platforms that allow the buyer to find the best opportunities with just one click. In addition, you have at your disposal a catalog with all the possible choices (weight, color, size, purity...) which leaves you more possibilities. But Internet is vast, that's why buying online requires to be careful. Always check that the diamonds you buy online are sold with a quality certificate.
A gold and natural diamond engagement ring at a great price at i-diamants.com: the expertise of French jewelry and diamond dealers in Antwerp
The choice of a diamond engagement ring is therefore an important step in a couple's life. This is why the i-diamants website, both Belgian diamond dealers and French jewelry expert, answers all your questions and provides you with the best advice from diamond dealers. All our diamonds are certified GIA, HRD and IGI and are sold with a quality certificate to guarantee their authenticity and their evaluation criteria. Our expertise guarantees you all the excellence of the French jewelry, by offering you jewels created to measure and by hand by the best French jewelry craftsmen. You will also find in our online store a FAQ section, where we answer the questions most frequently asked by buyers. By browsing this section, you will be able to familiarize yourself with the criteria to be taken into account and become a true expert in the choice of your engagement ring. It's up to you!
French jewellery
---
Our slogan :
Passion, Authenticity, Expertise
Certified diamonds
---
By 3 world-renowned laboratories:

French manufacturing
30-Day « satisfied or reimbursed »
guarantee
Free and insured shipping
GIA, HRD & IGI certified diamonds
French jewellery
Diamonteers at your disposal
As you continue your navigation, you accept the use of cookies to provide our service and to secure transactions on our website.
Don't show anymore
More info