---
Buy a diamond online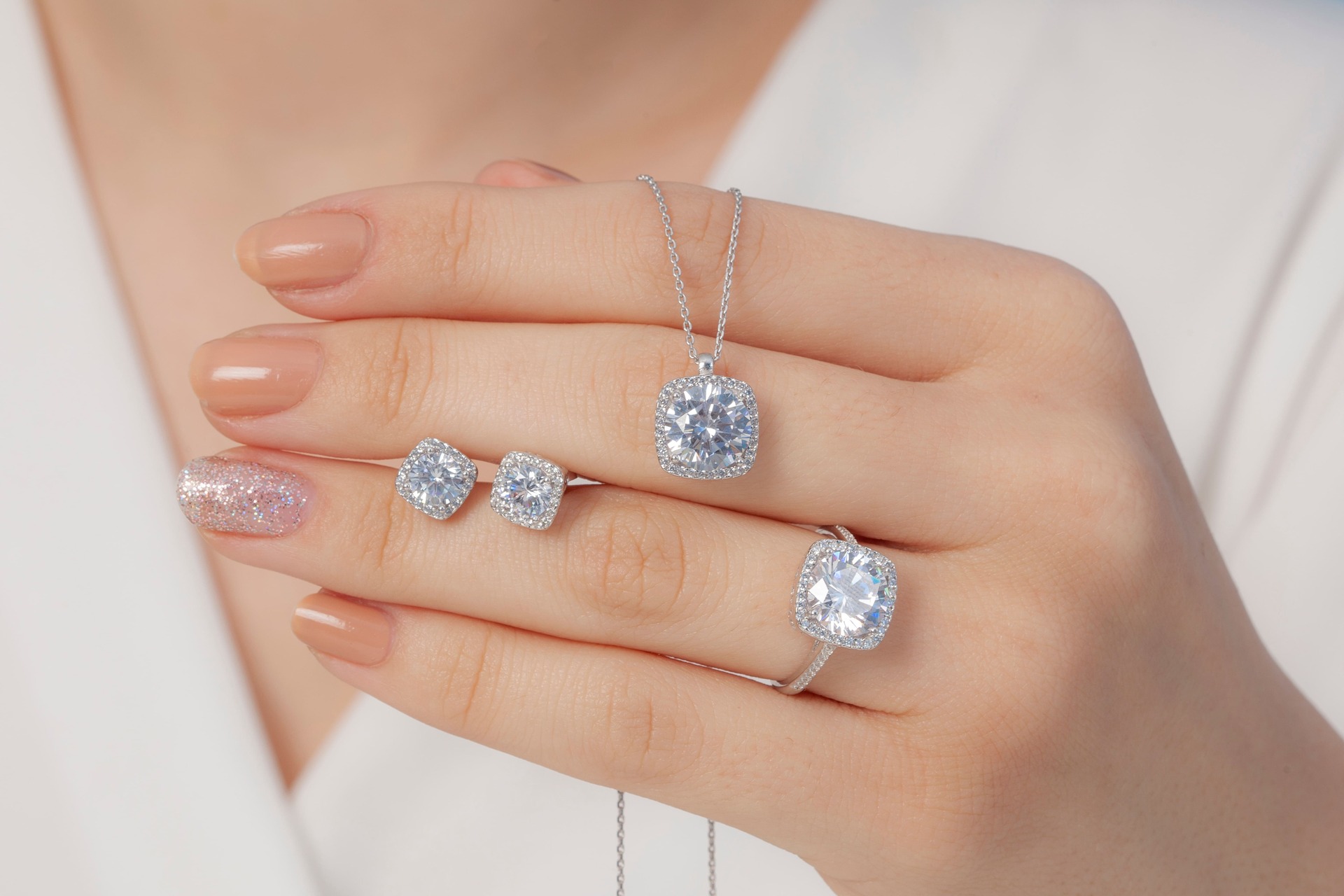 At i-diamants.com, you will find a simple and friendly space to buy certified diamonds with knowledge and confidence.
First, learn about the criteria that define the quality of a diamond. Choosing a diamond is all about understanding. In our diamond guide, you will find a page dedicated to each of the 4 criteria (weight, color, clarity, cut).
On our site, we offer a diamond sales catalog (from 0.30 carat...0.50 carat...0.70 carat to 1 carat and more). Each diamond is documented in a "diamond card" with a diamond certificate, including all the characteristics noted by the gemologists of the laboratories.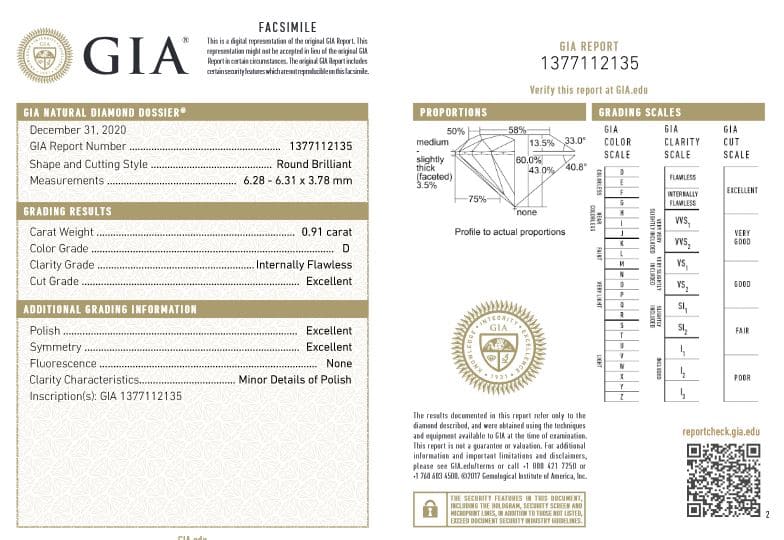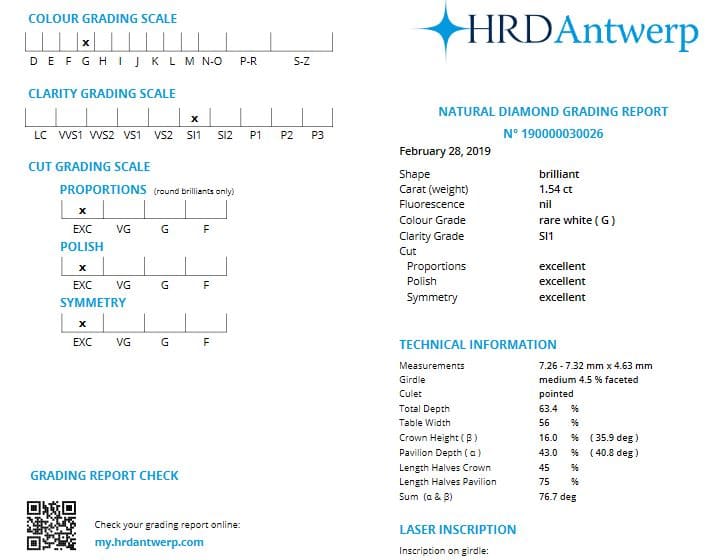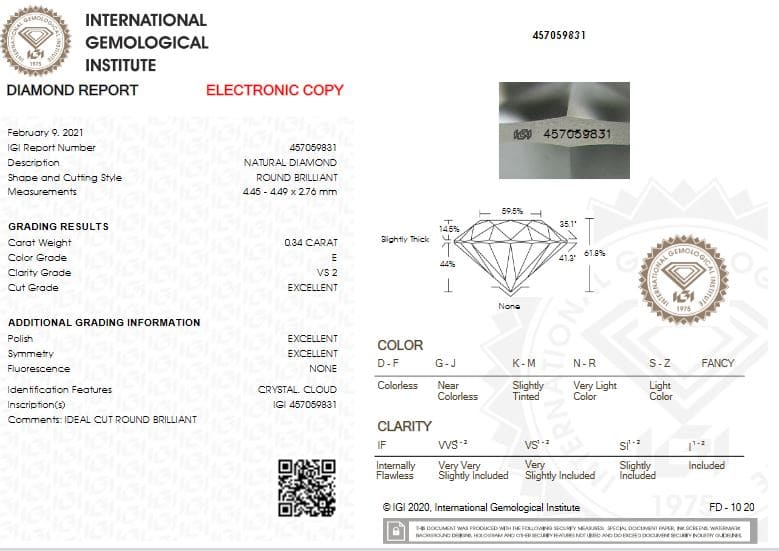 All our diamonds from 0.30 carat are of GIA, HRD or IGI certified quality, and we certify on invoice that they are of legitimate origin in compliance with the United Nations resolutions and the Kimberley Process. They can be set on a piece of jewelry from our collection (solitaire, ring, wedding band, pendant, earrings and diamond bracelet). A jewelry quality collection, in gold or platinum. For weddings, engagements, or other great moments in life. On request, we also create custom-made and/or personalized jewelry.

For more information, you can contact our customer service provided only by professional diamond dealers who will answer all your questions before validating a diamond purchase on our fully secure site for payment and delivery of your diamond purchased online.
Where to buy a diamond ? Why on the Internet?
If the traditional jewelry store and the premises of a famous brand of high jewelry remain the most classic destinations where to buy your diamond, it is on the online sales sites that you will probably find the best quality/price ratio.

To be able to buy a diamond at the best price/quality ratio, you also need transparency on prices and quality criteria, as well as a wide choice and valuable advice from experts.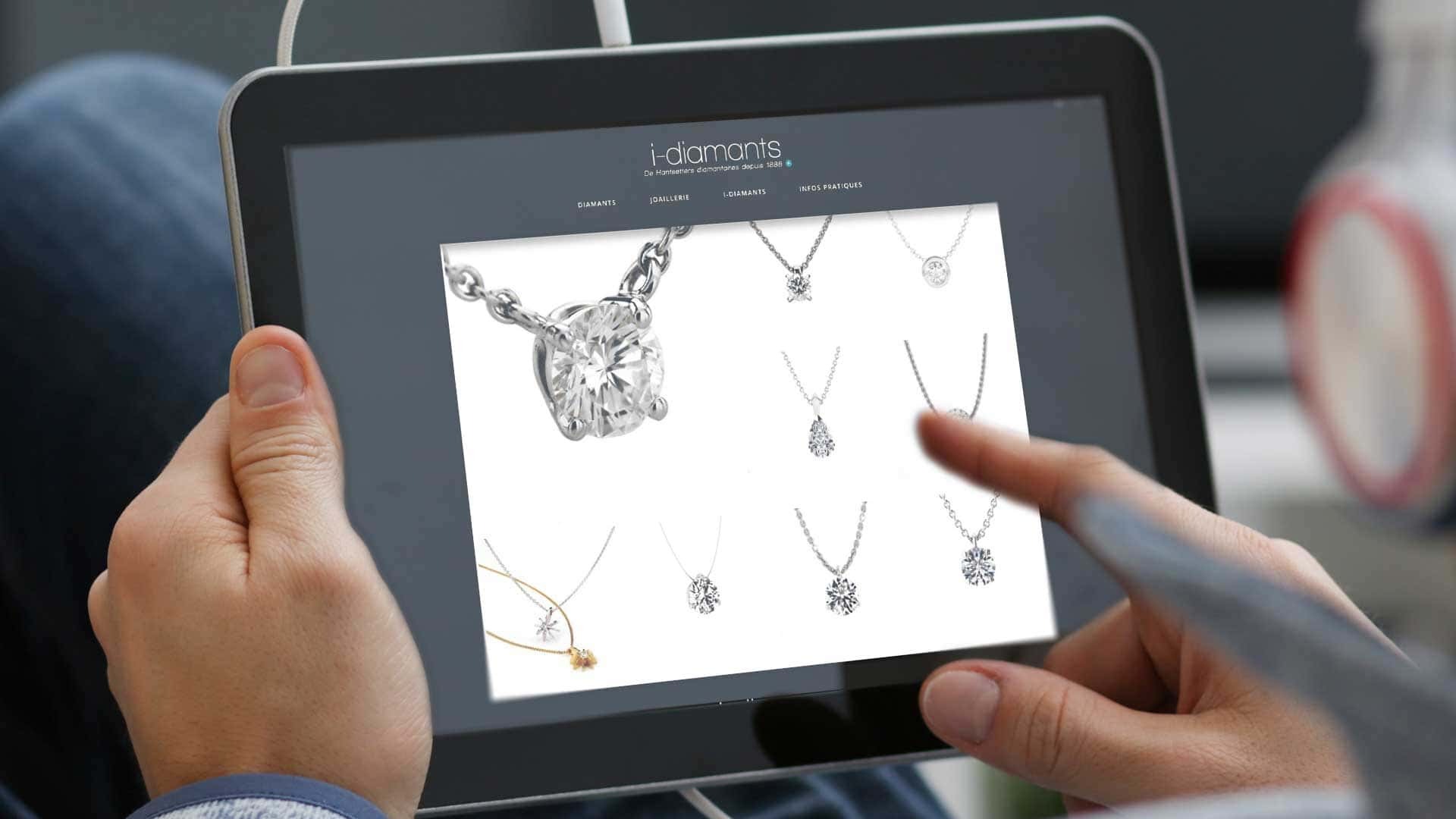 The Internet offers all these advantages at your fingertips. You will learn what are the quality criteria that allow to evaluate the price of a diamond. You will be able to browse through numerous online diamond sales catalogs, with prices displayed in full transparency.
At i-diamants, diamond dealers since 1888 (4 generations), we offer you, in addition to access to a large catalog of diamonds at very competitive prices and advice by email or telephone, selections of diamonds carefully selected, our core business.
Favorite's choice
0.30
E
VS2
EX
VAT Diamond Price
762 €
Choice of balance
0.41
F
VS2
EX
VAT Diamond Price
1060 €
Choice of perfection
0.50
D
IF
EX
VAT Diamond Price
3425 €
De Hantsetters, diamonteers since 1888
Customer service at your disposal, provided by diamonteers
How do I buy a diamond online?

Buying a diamond is not an impulse purchase but a thoughtful purchase: it is important to compare several diamonds and to weigh the pros and cons. It is common to hear that to buy a diamond it is better to see it, to be sure of your choice. But the essential is invisible to non-expert eyes. Determining the degree of whiteness and purity remains a professional job. Many inclusions are invisible to the naked eye without a magnifying glass with X10 magnification and the trained eye of a diamond dealer. And the color nuances are sometimes subtle. It is difficult to evaluate the quality of a diamond's brilliance without having the experience of seeing and comparing them regularly. If you are demanding, choosing is at the end of understanding. Therefore, it is necessary to study the characteristics that determine the price and quality of a diamond. They are called the 4Cs: Carat (carat weight), Clarity (degree of purity), Colour (degree of white color), Cut (quality of the cut). On these criteria, do not rely on the statements or certificates of this or that dealer. Always prefer the independent and internationally recognized rating of the 3 most prestigious gemmological laboratories: GIA, IGI, HRD.
Buying a diamond accompanied by one of these 3 certificates will be for you the guarantee of the authenticity and the quality of your diamond. You will know with certainty the color and clarity of your diamond. You will know the exact weight in carat as well as all the parameters that define the quality of its cut: finish, symmetry...
Beyond the 4Cs, the 5th C of trust is just as important. The foundations of this confidence are fragile, precious and rest on 3 elements according to us: the advice of a diamond dealer, the transparency on the quality thanks to the certificates, and the safety of an Internet site concerning the methods of payment and delivery.
For more information, you can also read our article "how to buy a diamond?"
What are the three most common occasions to buy a diamond?
There are many precious moments in life to give diamond jewelry. Below, we have listed the most common ones. But all occasions are good for this magical stone to reflect the wonderful flame of love! You can also read our article "when and on what occasion to buy a diamond?"
Some of the most common occasions include the engagement ring, wedding band and diamond pendant for the birth of a child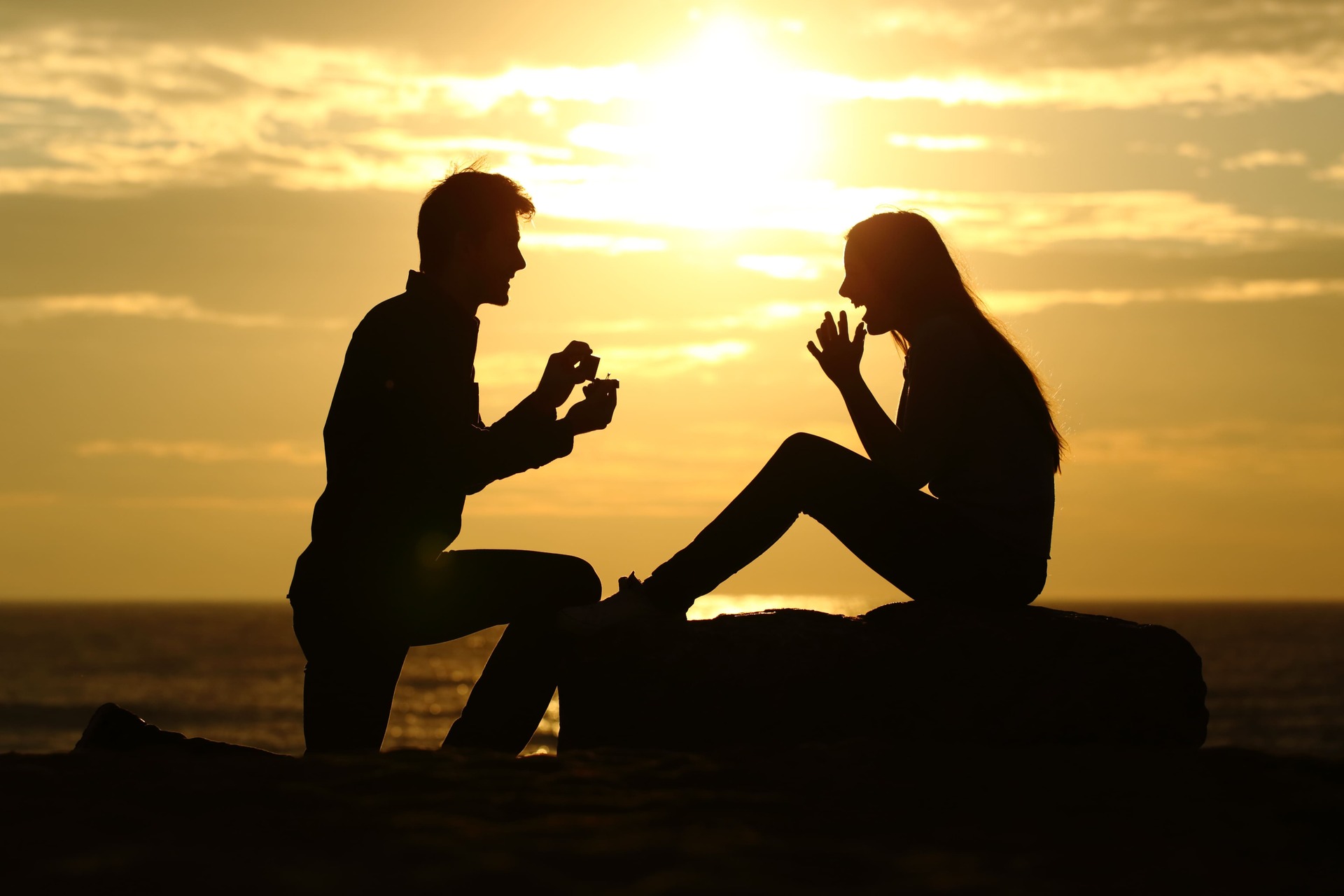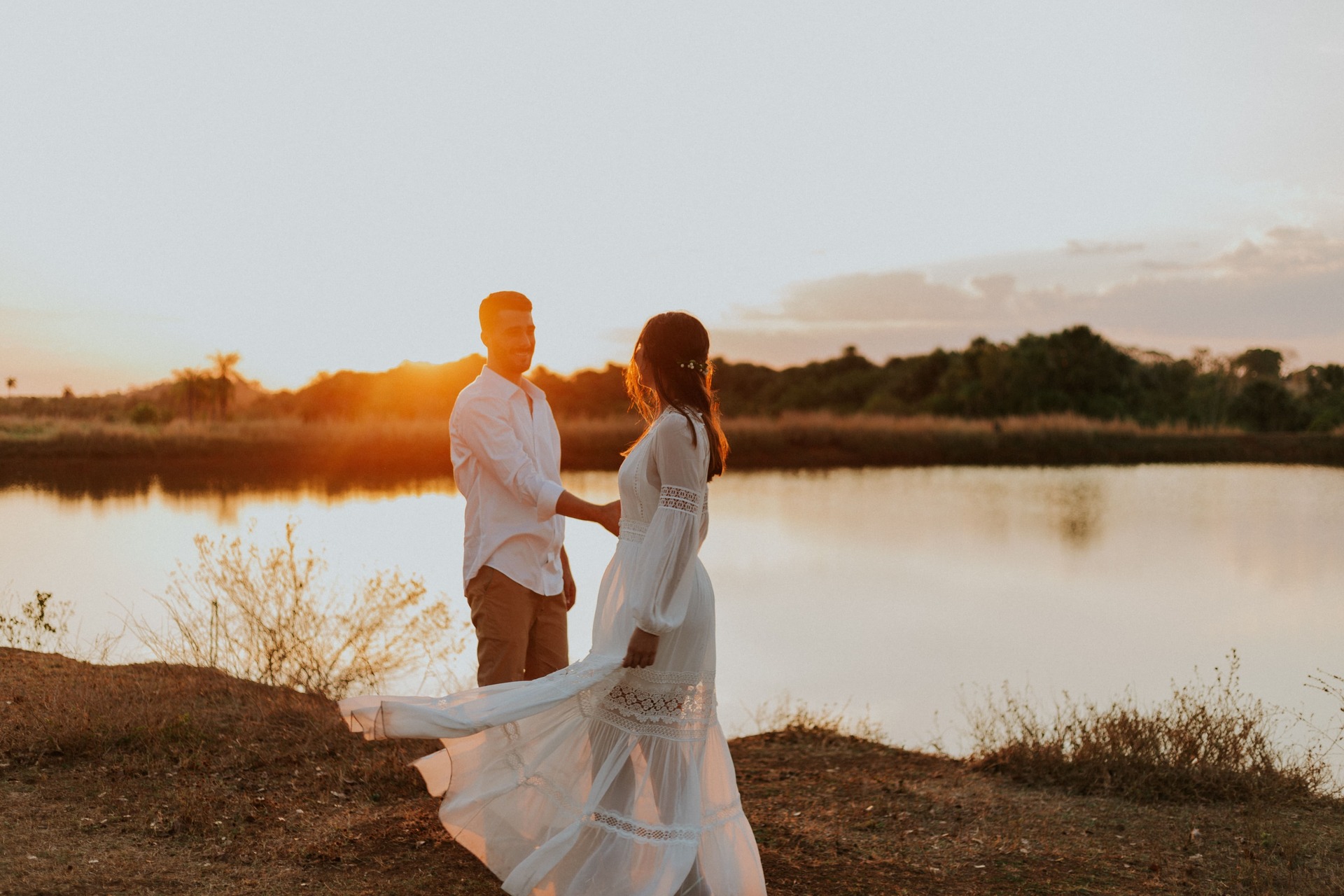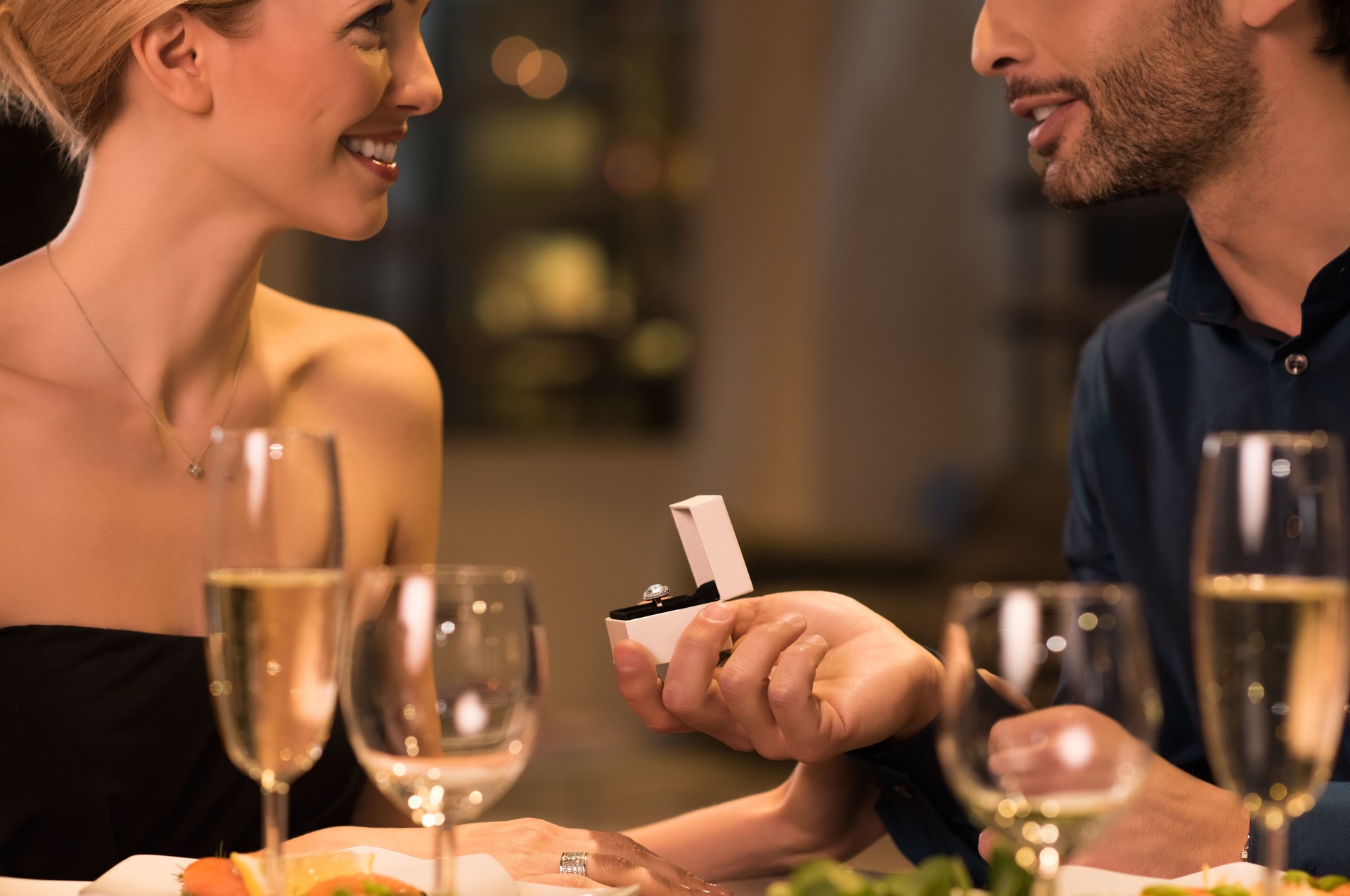 The engagement ring
It is the diamond jewel par excellence. And for many, the first purchase of a diamond. As a symbol of the rarity and uniqueness of love, a man usually gives a solitaire ring, with a single diamond set in the center. Among all the precious stones, the diamond carries the brilliance and strength of love to the highest level. The mission of the solitaire setting is to highlight the diamond as much as possible. Hence the perennial success for decades of the classic diamond solitaire with claws (4, 5 or 6 claws) whose light and timeless style enhances the fire of the stone set in its center. Most of the diamond solitaires are made with a brilliant cut diamond, whose majesty has never been surpassed by any other cut. The round shape remains the cut that gives the most brilliance to a diamond by the play of facets.

The wedding ring

There is no wedding without a wedding ring, symbol of eternal love thanks to its ring shape without beginning and without end. There are multiple models of wedding rings: all gold without any stone, set with fine stones or precious stones. But the most symbolic is the diamond wedding ring because it signifies the rarity of the union. For this jewel, all forms of diamonds are used. The round brilliant diamond remains the most common choice for wedding rings, but we also make a lot of wedding rings with princess, emerald, heart cut diamonds... An alternation of stone shapes is also possible, with for example an alternation of round diamonds and baguette diamonds. The combinations are multiple. That said, the brilliant cut diamond remains by far the most sparkling, so it is preferable if you are looking primarily for the brilliance of the setting.

The diamond pendant
It is often offered as a gift at the time of a daughter's birth because it has the advantage of being able to be passed on from mother to daughter (at her 18th birthday) without worrying about being cut. On this occasion, the father usually offers a solitaire diamond pendant. The diamond is then the main part of the pendant, and the setting wants to be as discreet as possible to emphasize the brilliance of the stone. Hence the great success of diamond pendants with claws (3 or 4 claws). With its timeless and elegant design, this type of setting goes beautifully with all types of outfits, and especially with suits.
French jewellery
---
Our slogan :
Passion, Authenticity, Expertise
Certified diamonds
---
By 3 world-renowned laboratories:


Exceptional quality of stone and jewel

Customer service at your service, provided by diamond dealers

Sealed diamonds with a certificate of quality and authenticity

French manufacturing

30-Day « satisfied or reimbursed »
guarantee

Online secured payment
De Hantsetters, diamonteers since 1888
Customer service at your service, provided by diamond dealers
All our diamonds are independently certified by 3 world-renowed organisations



Want to talk to a diamonteer ?
Contact us now