From 0.10 to 1 carat and more: choose the price and quality according to your budget! The purchase of our products online by credit card, PayPal, check or bank transfer is secure. For more information and for any question about our products (type of alloy, origin, manufacturing, delivery), please contact our customer service available by phone or email. Please note the reference (- ref) of your article for the follow-up of your order.
Buy your gold and diamond pendant on i-diamants ! On our i-diamants store, discover our complete collection, a large choice of handmade and custom-made models.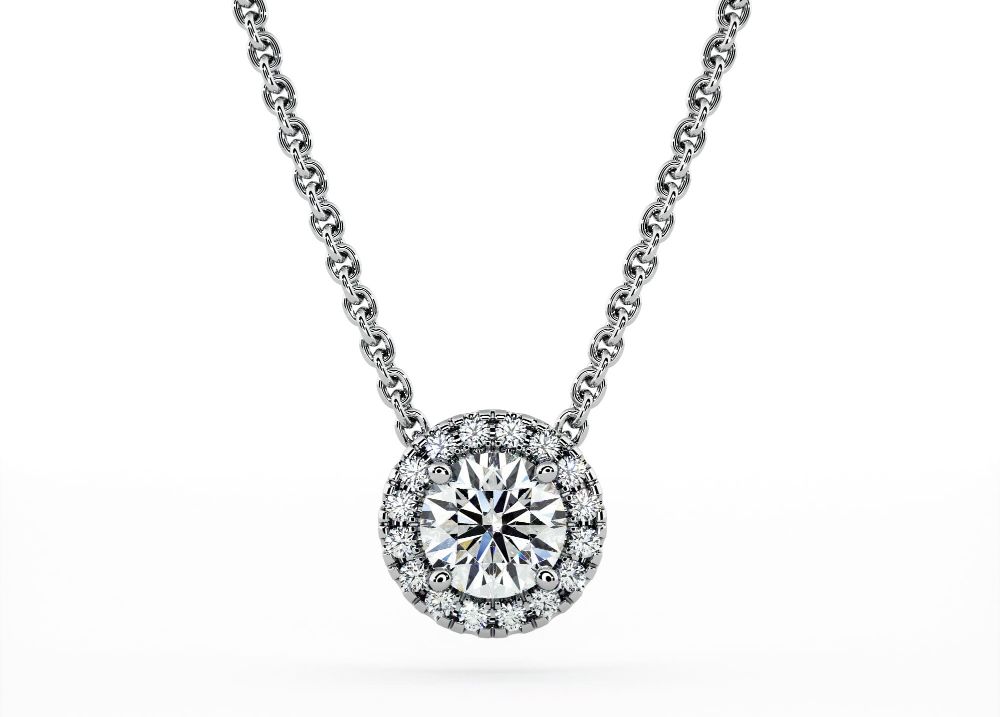 Solitaire diamond pendant, the charm of the timeless jewel
How about giving her the white gold and diamond pendant of her dreams?
In the diamond pendant collection, we present the most classic models, including the solitaire set with a single round brilliant cut diamond. Among our collections of necklaces and pendants, the 18 karat white, rose or yellow gold or platinum diamond pendant with diamond solitaire remains one of the most sought-after pieces in jewelry! Mounted on a gold or platinum chain (rather than rhodium-plated silver), the diamond seems to be clutched by a delicately crafted setting. The number of carats and the quality of the diamonds are certified as a guarantee of transparency. The certificate also guarantees the natural origin of the stone, its color and its purity. By its timeless character, this jewel is adorned with a unique spirit: the brilliance of excellence and the preservation of value through time.
The solitaire diamond pendant in white or yellow gold is widely acclaimed by our customers for its elegance and comfort. The swivel-bracket model ensures that the pendant always falls perfectly. Its diamond is set on a gold cradle that reflects the light. Handmade and made to measure, the women's pendant in white gold or 18K yellow gold is a sure bet for quality and refinement.
Fall for a diamond heart pendant
Like the diamond necklace, the gold diamond heart pendant for women is one of the jewels that sublimate a neckline and a feminine bust with chic and refinement. A must for elegance, a symbol of love, proof of attachment and indestructible bond, a white or yellow or pink diamond set on a heart pendant competes brilliantly and naturally with the symbolic diamond cross pendant for men or women. Iconic and timeless, it goes much better with a gold chain than with a silver chain.
Pendant woman diamond, the quintessence of elegance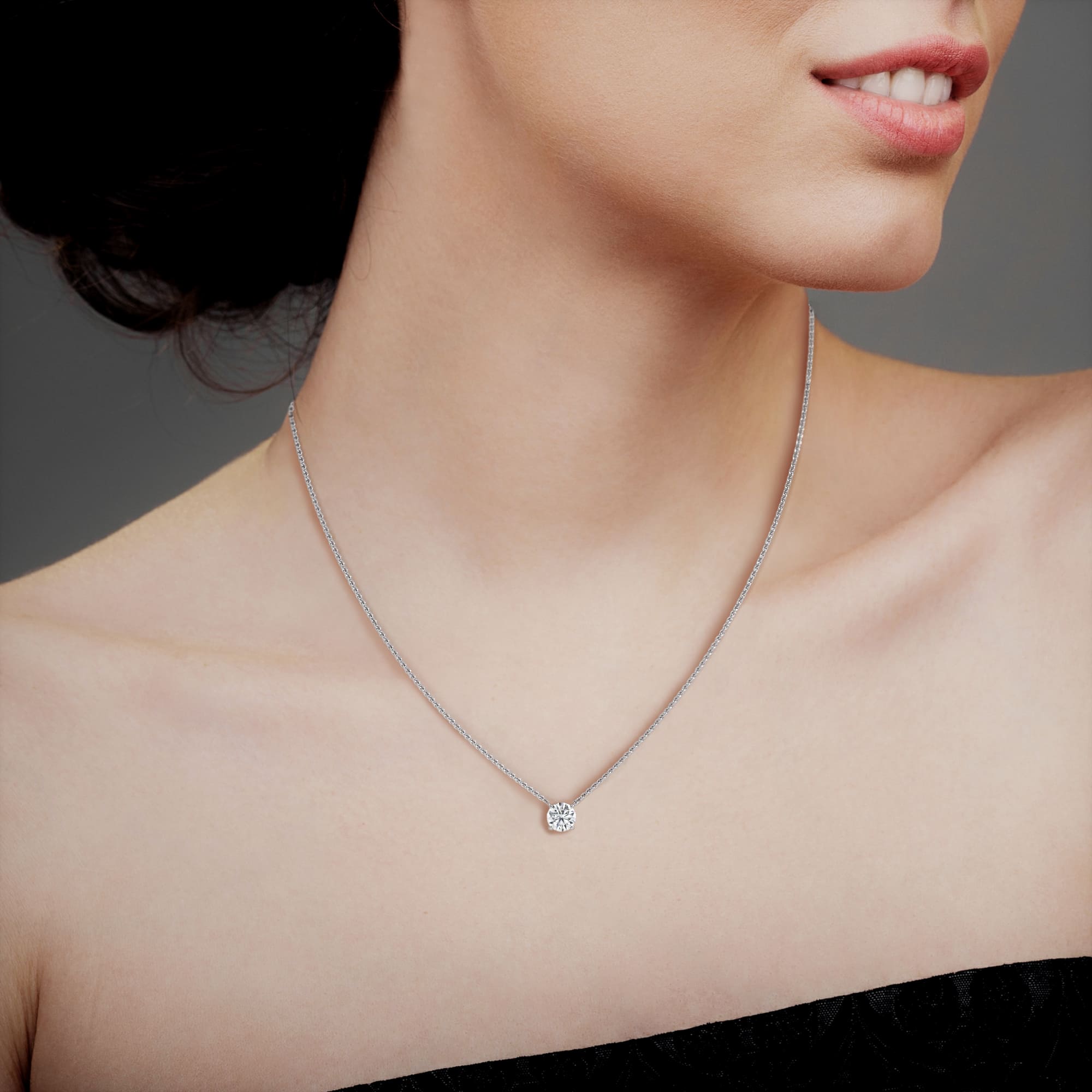 Between a white pendant and a small black diamond pendant, your heart swings? We guide you in buying your diamond pendant online. More than a simple question of taste, the purchase of a piece of jewelry is based on a real choice guided by very personal criteria. This "coup de coeur", intimately linked to a story, to your life, to a meeting or an anecdote of a day, reflects your personality as much as your inspirations. Be a princess of the Orient wearing a Persian sapphire or fall in love with the infinitely white diamond of a sparkling necklace. Magnify a neck, a nape of the neck, enhance your femininity, dress up an outfit... Browse the homepage of our i-diamants store to discover all our collections of necklaces and diamonds. Personalize your order, while respecting your budget for a safe purchase!
Find a diamond pendant for men
Diamond pendants are not exclusively reserved for women! Unclassifiable, unique and timeless, they are also available for men through a line for men with character. More than a simple piece of jewelry, it is a singular object that distinguishes it from all other valuable jewelry. Imbued with a certain chic and a sign of privileged distinction, the men's pendant will make you shine as much in society in the most upscale areas of Paris as in private receptions.
Choose a solitaire black diamond pendant suspended from a solid silver claw to dress up a classy yet casual outfit. Find the diamond pendant that best matches your eyes to seduce the woman in your life. On our store, the online reference for precious and unique jewelry, purchase a custom-cut diamond pendant according to your budget and your taste. Determine the number of carats of your choice to evaluate the amount of your purchase.
Diamond pendant in 18 carat gold or platinum, which material to choose?
From 0.5-carat white diamond earrings to a 24-karat gold rose necklace, what piece are you missing to complete your diamond collection? The epitome of Parisian chic, a white diamond pendant on a white gold chain rivals the beauty of a yellow gold ruby pendant. Even more precious than a Persian sapphire, the 0.90 carat white diamond diffuses a unique sparkle. Its immaculate white, symbol of purity and perfection, gives it charm and sensuality. What could be purer than the white of a diamond to declare your love? The yellow gold and diamond pendant brings a comforting, precious and luminous shine. It belongs to those jewels that do not age and that we keep with pride from generation to generation.
You have no idea how much a diamond pendant costs? This will depend on several criteria including whether you choose a natural or synthetic diamond. Are you unsure about the choice of stone or metal? Use the filters to sort your search results by increasing price and determine the details and characteristics of the best item available according to your budget.
White gold diamond pendant
On a neckline, on a shirt or on a dress, the necklace is the right accessory to sublimate the outfit. But it is even more enchanting when it is embellished with a diamond pendant, enhanced with a metal as precious as white gold. This jewel can also be worn by the male gender, reflecting virility and elegance, it is perfect for any occasion.
Yellow Gold Diamond Pendant
Yellow gold is certainly the most appreciated precious metal. Whether it is a bracelet, a ring, a pair of earrings or a necklace, yellow gold seduces with its chic side. Its color is equally well matched with diamonds. The diamond pendant and yellow gold necklace combo is the perfect combination to enhance your glamorous and original look.
French jewellery
---
Our slogan :
Passion, Authenticity, Expertise
Certified diamonds
---
By 3 world-renowned laboratories:

Pink gold and diamond pendant
Enter the world of luxury jewelry with the rose gold and diamond pendant. With a unique and bold sparkle, rose gold makes the diamond shine and tells the aesthetic story of modern jewelry. Adding a seductive and radiant touch to the gemstone, the combo is perfect on any outfit.
Platinum diamond pendant
Of all the precious metals that exist, platinum is by far the most resistant. A symbol of perseverance and determination, it is perfect for enhancing a diamond pendant. Whether it's a solitaire or a heart-shaped stone, the combination of diamond and platinum is perfection. It is the perfect gift for a man, woman or teenager.
Choosing the right diamond and pendant model
To make your choice among our eclectic selection of solitaire diamond pendants, consult our online catalog. The quality of our diamonds is certified and guaranteed exclusively by the three best gemological laboratories: IGI, HRD or GIA.
In jewelry, the carat is the unit of measurement of the purity of precious metals. Thus, a carat represents the percentage of an alloy in relation to the total mass. In gemology, the carat corresponds to a weight of 0.2 grams. It is a more accurate unit of measurement than grams for measuring the weight of gemstones.
The evaluation of the beauty and price of a stone is done as much by its weight as by its purity, its color, its size and its brilliance! Having always fascinated jewelry lovers, gemstones and diamonds carry a history of eternity and rarity, which gives them an exponential price and value in relation to their carat weight.
Want to match your pendant with a ring or earrings? Remember to choose the style (classic or contemporary ring design...), the type of metal (rather gold or platinum which goes better with diamonds than silver), the alloy (rather 18 carats than 14 or 9 carats), the finish (matte, shiny, brushed gold...) of your piece to highlight your stones and get a rendering even closer to perfection and in perfect harmony with the jewelry you already wear.
Are you looking for a specific design for your diamond necklace? You want for example a yellow gold diamond cross pendant with precise and finely worked details? Make us a request for a custom-made diamond pendant creation. After your purchase, you will find on your order confirmation page details of the items being manufactured and delivered. Do not hesitate to contact us if a product with a specific ref was not available on our website, we can make a custom creation and personalized. If you had a crush on one of these items and it is no longer available, you can ask to be informed when this ref is in stock.
Whether it is set on a ring with stones or on a brushed gold cross, the diamond is the rare pearl of jewelry, always highlighted through creations that are sometimes classic or sometimes contemporary. Its brilliance naturally combines with the color of the metal in a fusion of beauty. A must for elegance, the height of profusion and wealth, the diamond necklaces worn by the great stars nourish a greater dream, that of passing to the other side of the small screen or wearing the set seen in the cinema while being the queen for a night... Set on a cross, the diamond takes over religious signs to divert them into symbols of luck in all modernity. It is the precious accessory, lucky charm that accompanies our heart for a lifetime!
For more information on choosing your diamond necklace, please see our articles How to buy a diamond pendant and Why buy a diamond necklace?
Choose the type of chain for a diamond pendant
Find on this online store your gold chain and diamond pendant in pink gold cheap!
Figaro, horse, ball, rope, mirror, Venetian, snake or English ... Faced with the completeness and variety of existing links, you will be spoiled for choice! A white gold chain for a convict type link? Or a fine or fancy silver chain? Choose according to your style and your desires!
All our diamond pendants are mounted on standard 42 cm forçat chains. If you prefer to wear your diamond pendants as a choker, the extension chain allows you to reduce its length. However, this option is also determined at the time of ordering your product.
Like Maty, Mauboussin, Cartier and others... we do our utmost to accompany and guide you in your purchase. Our team is composed of professional diamond dealers and remains at your disposal all year long.
Each pendant is delivered in a luxury box, accompanied by its quality certificate with all the details and characteristics of the stone (weight, size, color, purity, ref, etc...).
Diamond pendants made in France.
Classic pendant models and custom creations.
After buying your diamond pendant, we advise you to read the article about cleaning your diamond necklace.
French manufacturing
30-Day « satisfied or reimbursed »
guarantee
Free and insured shipping
De Hantsetters, diamonteers since 1888
Customer service at your service, provided by diamond dealers
All our diamonds are independently certified by 3 world-renowed organisations



Want to talk to a diamonteer ?
Contact us now
GIA, HRD & IGI certified diamonds
French jewellery
Diamonteers at your disposal
As you continue your navigation, you accept the use of cookies to provide our service and to secure transactions on our website.
Don't show anymore
More info