Diamond White Gold Earrings TEMPTATION white gold
White Gold 18 carats (750/1000)
Average gold weight : 2,80 grams
Average diamond paving weight : 0,30 carat
Made in France - Handmade
Gold eagle head hallmark + manufacturing workshop hallmark
Comes with jewellery box (without i-diamants logo)

step 1/3
Choice of metal : White Gold 18 carats (750/1000)
1260 € TTC
(Price of the jewel alone)
step 2/3
I associate a set of diamonds
Jewel 1260 €
Diamond
Total
Exceptional quality of stone and jewel

Customer service at your service, provided by diamond dealers

Sealed diamonds with a certificate of quality and authenticity

French manufacturing

30-Day « satisfied or reimbursed »
guarantee

Online secured payment
---
Description and information
Diamond Earrings TEMPTATION white gold, selling price according to carat and diamond quality
"I can resist anything except temptation" said Oscar Wilde. Let's be tempted by these wonderful diamond earrings with paved diamonds aroud. Classic and contemporary. All diamonds in colour F (white extra+) and clarity VS2 (very small inclusion). 18 carats gold. Delivered in a jewellery box.
​White gold, timeless color and perfectly matched to the diamond of your jewel Diamond White Gold Earrings TEMPTATION white gold
​White gold is the most contemporary, it represents 80% of what we sell on our site and what is sold in jewellery. Its color is timeless and goes perfectly with white diamonds. White gold is an alloy of 75% pure gold, therefore yellow, and 25% white metals (especially silver). The color of this alloy is a pale yellow white. The white color of the finished jewel is obtained by rhodium plating, as a surface treatment. This layer of rhodium which whitens the gold wears off over time. Pale yellow gold can reappear with wear, especially for rings exposed to friction and acids from the sweat emitted by perspiration. Note that this is not the case for pendants and earrings which do not yellow over time because they are very little exposed to wear. To avoid yellowing by wear of the rhodium-plated white gold alloy, we therefore recommend for the rings a white gold alloy containing palladium (platinum group metal) which gives this gold a tone of white which does not move. not in time. That's why all our rings, solitaires and wedding bands are always made in 18 carat (750/000) palladium white gold.
We recommend the following 5 selections

Volume effect : diamond at a low price compared to its weight, I-J color and SI1-SI2 clarity

Favorite's choice : diamond selected by i-diamants for its shine, D-E color, VS1 clarity, cut criteria all rated "Excellent", no fluorescence

Choice of balance : diamond with a good balance of color / clarity: F-G / VS1-VS2

Perfection : diamond with the best criteria of color and clarity: D IF

Promotions : diamond with a 5% promotion


Carats / Diamond weight
Information about the relation between the weight and the diameter of a diamond
Equivalence for round brilliant diamonds
Examples of different diamond measures





Diamond colours
White degree from D to Z

D-EExceptional white
F-GExtra white
HWhite
I-JSlightly tinted
K-MTinted white
N-ZVery tinted
Diamond clarity
​Purity from IF to P





IFPure
VVSVery very small inclusion(s)
VSVery small inclusion(s)
SISmall inclusion(s)
PIncluded
Diamond cut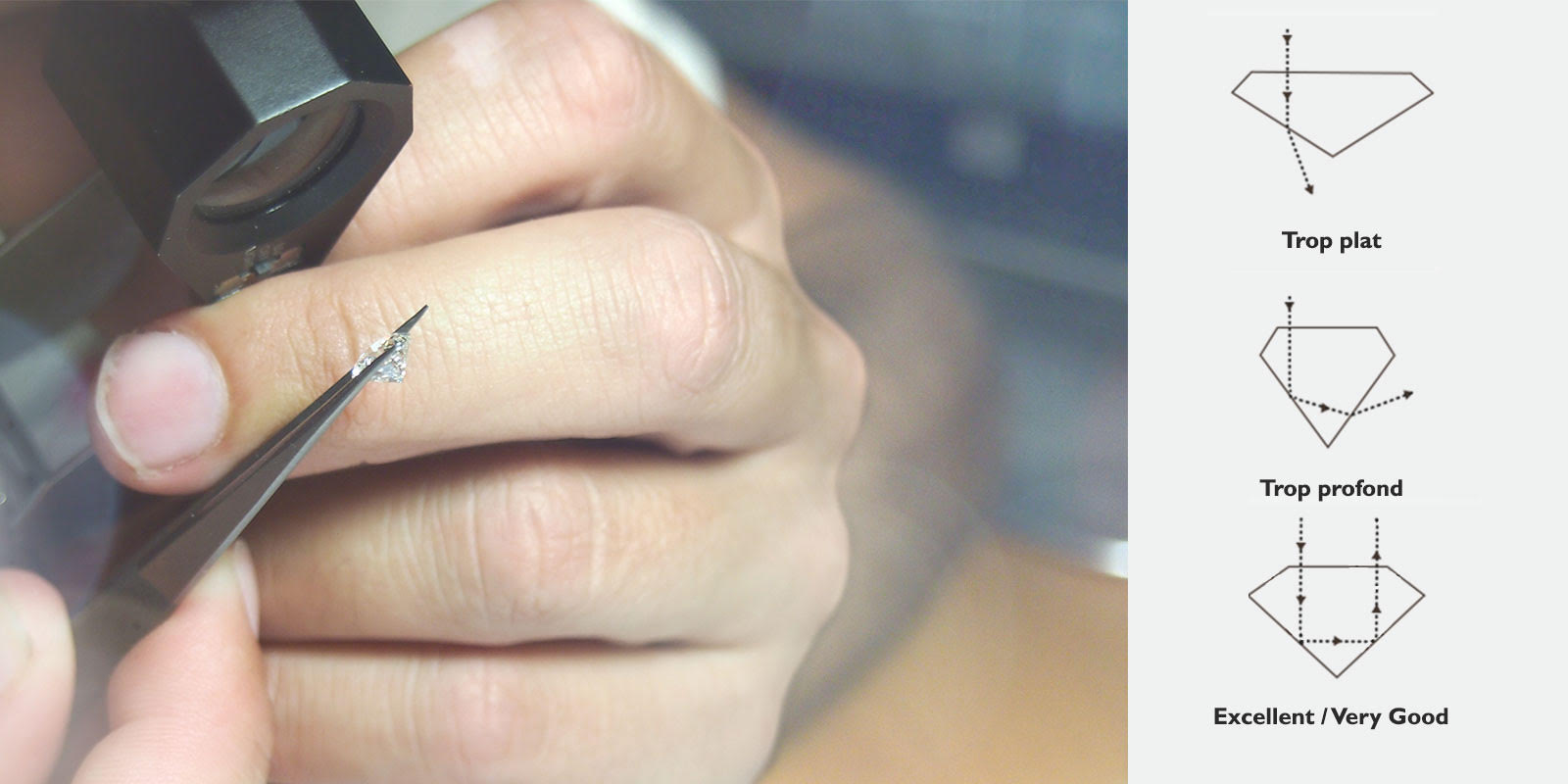 Quality cut scores recommended by i-diamants

| | | | | | |
| --- | --- | --- | --- | --- | --- |
| Cut Grade | Excellent (EX) | Very Good (VG) | Good (G) | Fair (F) | Poor (P) |
| Polish Grade | Excellent (EX) | Very Good (VG) | Good (G) | Fair (F) | Poor (P) |
| Symmetry Grade | Excellent (EX) | Very Good (VG) | Good (G) | Fair (F) | Poor (P) |
​​We only offer natural diamonds accompanied by a certificate of authenticity and quality issued by one of the 3 most prestigious and world-renowned laboratories: GIA, HRD and IGI. The certificate number is engraved on the girdle (circumference) of all our HRD, IGI and GIA certified diamonds.



Laser engraving
​The three major diamond certification laboratories HRD, IGI and GIA laser engrave the certificate number on the girdle (circumference) of the diamond. The certificate number is therefore engraved on all our HRD, IGI and GIA certified diamonds. This is a proof of the good match of the diamond and its certificate. The inscription is very small (to preserve the purity of the stone) and very difficult to read with the magnifying glass 10X. If you order only the diamond (without the jewel), it will be delivered under seal in a rigid plastic pouch (see photo below) for diamonds certified by HRD or by IGI. For GIA diamonds, the seal must be specifically requested in the comments field during the ordering process.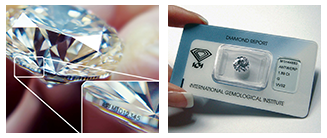 Diamond Fluorescence
Fluorescence is a luminous effect that some diamonds exhibit when exposed to ultraviolet light. They show visible light, usually blue.
Our recommandation
Since fluorescence may in some cases give a milky diamond appearance, prefer a diamond without fluorescence ("None" or "Nil")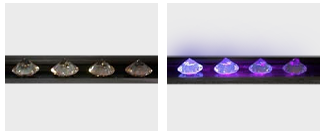 Diamond Polishing
Polish describes the finish of the diamond's surface. After the diamond is cut, each facet must be polished. This process can leave scratches or marks on the surface. If a diamond has no scratches or very minor scratches, the polish is high level. Scratches, lines, burn marks created by excessive heat, or rough sheathing can lower a diamond's polish rating. Polish is rated as Excellent (EX), Very Good (VG), Good (G), Fair (F) or Poor (P). The better the polishing, the more it allows the transmission of light through the different facets of the diamond. We recommend that you choose an Excellent (EX) or Very Good (VG) quality polish to ensure the best finish and shine.
Diamond Symmetry
Symmetry describes the symmetrical accuracy of the diamond facets in terms of dimensions and angles, as well as the centering of the table and the centering of the diamond breech tip. The more precise the symmetry, the better the cut of the diamond. A higher level of symmetry creates optimal shine and scintillation. If the facets are misaligned, the diamond can reflect light poorly. Symmetry is rated as Excellent (EX), Very Good (VG), Good (G), Fair (F) or Poor (P). We recommend that you choose a diamond with a symmetry score equal to Excellent (EX) or Very Good (VG) to maximize sparkle.
Paiement en 3 fois sans frais
You have the possibility to pay your purchase in 3 times without charge, by credit card, and spread your payment over 3 consecutive months.
Free shipping for France, Monaco and EEC countries
Your package is insured up to the value of the diamond and / or the jewel delivered. Shipments are made by La Poste in Declared Value or by Private Express companies. You can specify your delivery method preference during the process of online order. Declared Value is the delivery option recommended by i-diamants. This delivery method was originally created for jewelers. It has been operating very reliably, securely and confidently for a long time. The Declared Value allows online tracking of the package, delivery only against signature to the recipient or his representative, compensation of 100% of the value of the content in the event of loss or theft of the package. The delivery time is 3 to 5 days depending on the place of delivery in France / Monaco and 1 to 2 weeks for EU and DOM / TOM. The other advantage of this shipping method is that if you are not there at the time of delivery, a withdrawal slip is left in your mailbox and you can pick up the package at your nearest Post office. close, with the slip and your identity card. The package is sent in all confidentiality (no apparent mention of i-diamants and the nature of the product). Shipping costs are offered by i-diamants for the ''France / Monaco / EU and DOM / TOM'' zone, and are 35 euros for the ''Rest of the World'' zone.
Payment : 6 options
You can pay :
by credit card (Oneytrust secured payment): Visa, Mastercard, American Express…
in 3 times without charge, by credit card, and spread your payment over 3 consecutive months
by Paypal
by bank transfer
by cheque
with a deposit of 35% by credit card and the balance on delivery by check or by credit card
Laser engraving
This type of engraving is a method where a laser beam is used to accomplish the job. Laser engraving has many advantages over traditional machine engraving methods (drypoint engraving), including precision and fine finish. In addition, laser engraving is permanent, unalterable and aesthetic.
Please wait
Checking the availability of your diamond