Diamonds
Women and diamonds: from the gift of love to the purchase pleasure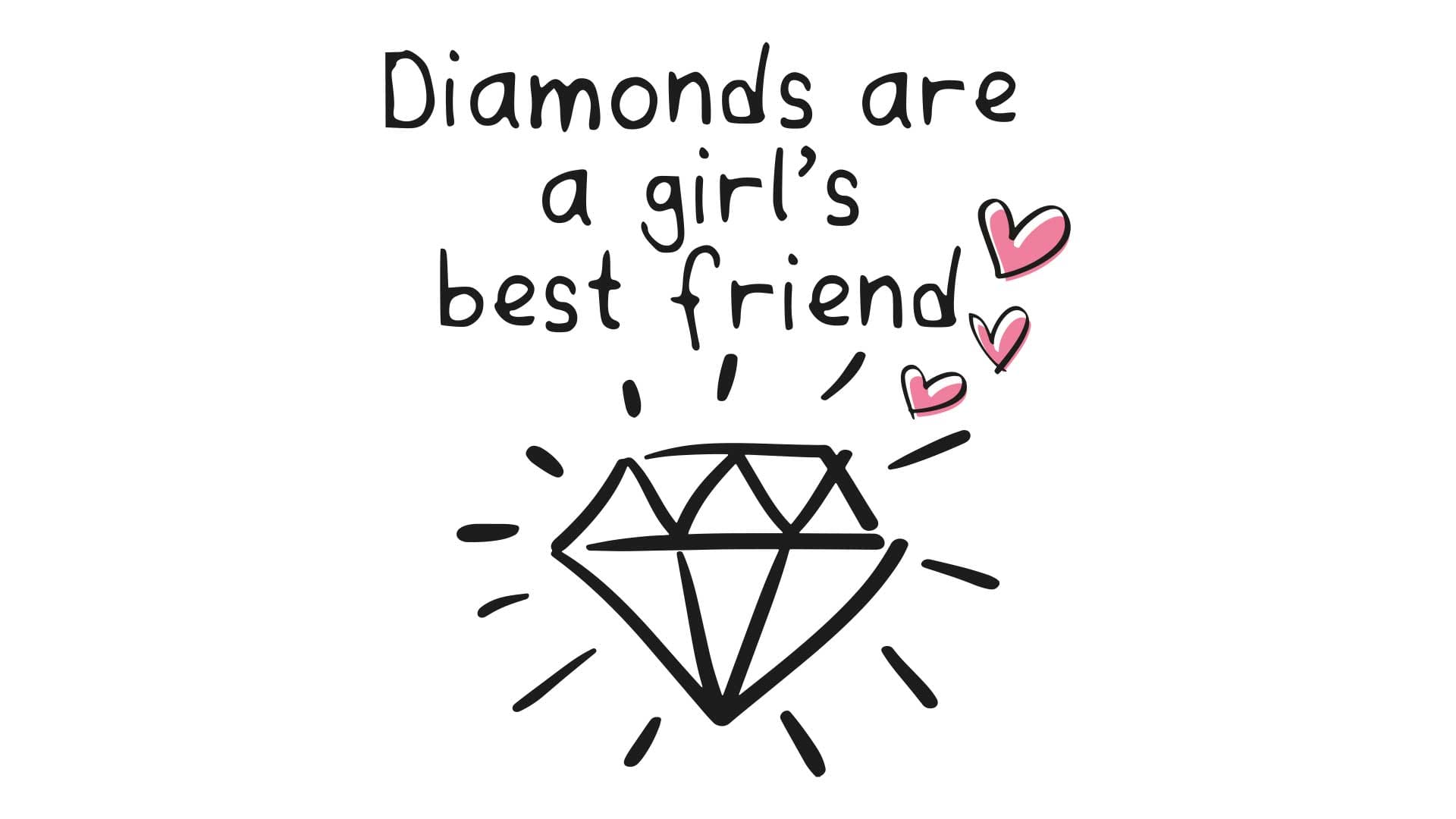 Everyone knows the slogan "Diamonds are the best friends of women". The latest trend for the most popular stone on the planet makes this slogan more relevant than ever: it seems that buying profiles in jewelry and online prove that women do not wait for men to afford the luxury of the exceptional brilliance of a diamond.
Give a diamond to a woman: a secular tradition.
Historically, gold and diamond jewelry was considered a gift that men buy and offer to their fiancées and wives to witness their love and celebrate important milestones in their marriage, such as engagement, marriage, birth or other happy events. But today, it is estimated that one-third of the diamond jewelry sold is directly purchased by women. In jewelers' windows and on-line sales sites, engagement rings and wedding rings must increasingly share space with more original creations or unique pieces specifically dedicated to a clientele of women who come with original jewelry cravings, far from any traditional purchase.
A woman who buys a diamond: a strong symbol of independence.
In the world of jewelery, we have entered a new era. Diamonds become a new symbol of women's economic and social independence. They can now afford what they want without waiting for their fiance, husband or lovers to offer them a diamond gift. And the reasons to buy a jewel set with diamonds are many: reward, purchase fun ... the best friend of women is rich in many facets.
The purchase of a diamond: a reward offered by a woman.
Women offer themselves first and foremost a diamond as a reward, to mark access to a better profession, to obtain a promotion, to celebrate a professional success, or any other type of success. Some women even say they offer diamond jewelry to celebrate the remission of a serious disease such as cancer. And what more beautiful symbol than a diamond to sign the life that smiles and shines again on the face of a woman! For the little anecdote, we even had the case of a woman who bought a beautiful diamond ring to celebrate her divorce ...
The diamond becomes a pleasure purchase.
But buying a diamond is also a pleasure purchase to complete a finery, often starting in the early years of adulthood with the jewelry that their parents or husbands have offered them. It may be then to buy a tennis bracelet to complete an evening dress, a solitaire diamond pendant to adorn the elegant neckline of a chic tailor. Earrings are also a frequent purchase, especially ear chips or creoles. And rings are not left behind: 37% of diamond sales directly to women are ring sales. Because today, all jewelers compete with imagination to offer the most beautiful creations. We recently created the first 2 rings of our own De Hantsetters collection: the Edelweiss Earth Ring and the Rose des Sables Ring. They are in color gold (white, black, pink) and set with colored diamonds (yellow, brown ...) and testify to the magical beauty of the great outdoors (mountain and desert). Like women, nature is immensely strong and delicate at the same time.
The taste of what is eternal, a significant value in women
Another explanation makes sense too: women, with their life, are viscerally attached to the transmission to children. By buying a beautiful diamond, they know they can pass it on to their daughters. They enrich the family patrimony with an object of value that will cross generations. Thus the purchase of a beautiful stone is not an ostentatious expenditure but an investment in the long term, a long-term act. Where the man sometimes prefers to spend his money in perishable goods such as a big car, the woman often has the taste of noble and eternal materials.
The influence of Google and social networks that facilitate access to diamond and online shopping.
Finally one last factor seems relevant to explain the rise of purchase of stones directly by women. As many jewelery professionals will recognize, the industry is changing, with e-commerce marking a dramatic shift in the way its products are sold. If going into a classical jewelry is still an act marked by a certain tradition and strongly socially connoted, with more commercial jewelry and luxury jewelry, buy on the web can escape the social gaze and weight of the image. On the web, the woman really feels free to crack for the jewelry she wants. And the temptations of online shopping are growing with the exponential rise of social media. And if the woman was the cornerstone of the future of the diamond?