---
What colour for your diamond ?
Tips on diamond color
Choosing the color of your diamond

On the color scale of the "Cape" series of diamonds, which ranges from colorless to a slight tinge of yellow, we recommend choosing whites from D to I, which are whites without a tinge, with the I very slightly "shaded" (imperceptible from the front).

The exceptional whites D and E are hard, bright whites. Extra whites F and G are as the name implies extra white, all very high white diamond choices.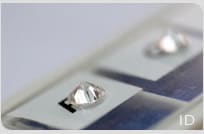 H and I whites are softer whites. The slightly tinted whites J and K are always bright in the most beautiful cuts.
The choice of the white of the diamond cannot be dissociated from the color of the metal of the jewel:
For platinum or rhodium-plated white gold, the diamond must be white without tint (H or higher).

The yellow gold - its natural color - brings out the white of the diamond by contrast even in lower colors like I J and K.
For colored diamonds (Fancy), we offer shaded golds, for example champagne gold for champagne diamonds.

We also recommend for colors from I J K to buy diamonds with fluorescence. This enhances the color: fluorescent diamonds emit a faint blue light when exposed to ultraviolet light. Since blue is a complementary color to yellow, these diamonds will appear whiter.

You might also be interested in these articles:
Colored diamonds
Most famous colored diamonds
See also: Which purity to choose?
French jewellery
---
Our slogan :
Passion, Authenticity, Expertise
Certified diamonds
---
By 3 world-renowned laboratories:


Exceptional quality of stone and jewel

Customer service at your service, provided by diamond dealers

Sealed diamonds with a certificate of quality and authenticity

French manufacturing

30-Day « satisfied or reimbursed »
guarantee

Online secured payment
De Hantsetters, diamonteers since 1888
Customer service at your service, provided by diamond dealers
All our diamonds are independently certified by 3 world-renowed organisations



Want to talk to a diamonteer ?
Contact us now