---
Jewellery in gold or platinium : key information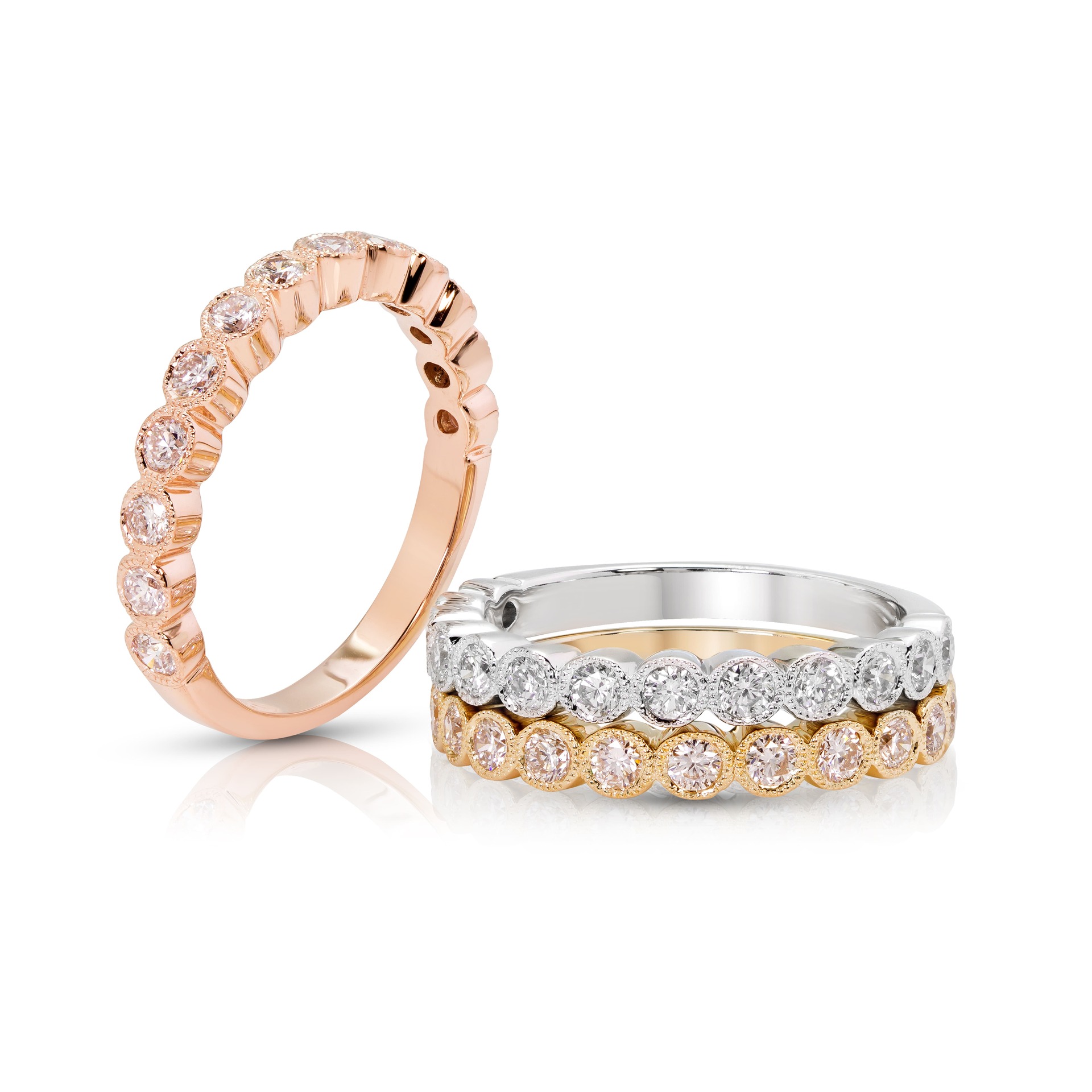 Diamond jewelry in gold or platinum - Specificities of the different metals
The colour of gold
The basic color of gold is yellow, its natural color.
The specialities of yellow gold
24 karat yellow gold* is pure gold. It is called fine gold. Fine gold is soft, unsuitable for jewelry making.
18 karat yellow gold or 750/000 or 75% fine gold is the standard of French quality. 18 karat gold can be identified by the official "eagle head" hallmark, which is mandatory on jewelry weighing at least 3 grams.
* The carats correspond to the percentage of fine gold in the alloy.
18K white or white gold
White gold or 18-carat white gold: two expressions that designate the same metal. It is an alloy of 75% pure gold, therefore yellow, and 25% white metals (for example silver). The color of this alloy is a pale yellow white. The white color is obtained by rhodium plating, in surface treatment.

White or white gold, rhodium plated
White gold or rhodium-plated white gold is white gold covered with a layer of rhodium, more or less thick depending on the quality, to give it its white color. This layer, especially if it is too thin, wears off with time. Pale yellow gold can reappear with wear, especially for rings exposed to friction and acids from sweat.
White or white gold, palladium
To avoid yellowing due to wear of the rhodium-plated white gold alloy (see above), we recommend for rings a white gold alloy containing palladium (a platinum group metal) which gives this gold a subtle grey tone. It is also harder, more resistant. Palladium white gold is more expensive than classic white gold. It is most often also coated with a layer of rhodium for brilliance.

Gold of other colors
By varying the components of the alloy of 25% of other metals than pure gold (75%) we obtain different tones. The addition of copper, for example, allows to go towards pink or red gold tones. Each gold beater has its own alloys that can deviate from the standard.
Platinum, the most noble metal
Platinum is white (gray-white), its natural color. Jewelry platinum is 95% pure (Platinum 950/1000). It is a metal that is denser than gold. The same piece of jewelry made of gold and platinum will weigh more in platinum. Platinum is much more expensive than gold, which is why white gold is often preferred for a very similar finish.
Several types of finishes
Apart from the choice of metals, colors, color combinations (bi- or multi-colored jewelry), the finishes are also multiple: usually gold and platinum are polished to obtain a shiny finish. The finish can also be matte, brushed, guilloche...
Exceptional quality of stone and jewel

Customer service at your service, provided by diamond dealers

Sealed diamonds with a certificate of quality and authenticity

French manufacturing

30-Day « satisfied or reimbursed »
guarantee

Online secured payment
De Hantsetters, diamonteers since 1888
Customer service at your service, provided by diamond dealers
All our diamonds are independently certified by 3 world-renowed organisations



Want to talk to a diamonteer ?
Contact us now